Amgen, Inc. Showing Strong Performance Despite Low Beta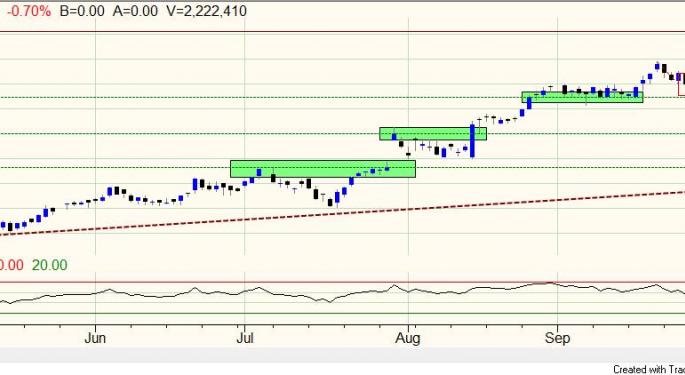 Amgen, Inc. (NASDAQ: AMGN) stock continues to impress the technical crowd, even in its current pullback phase.
The big money crowd out there seems to be drawn to the biotechnology sector in general. The big-cap biotechnology sector in particular has recently general volatility rise in the broader market. Along with certain large-cap pharmaceuticals, big-cap biotech seems to be one of the places that money managers are drawn in an effort to maintain equity exposure (in case the market turns back to the upside), while reducing volatility.
What causes this type of low beta with such a strong stock performance?
What The Bulls See
An enterprise value of $114 billion that trumps the market capitalization of $106.4 billion.
Strong net profit margins of 25.74 percent.
Huge positive levered free cash flow of $4.86 billion.
Cash reserves of over $26 billion.
A clean balance sheet, as reflected in the current ratio of 4.36.
A very bullish price chart, even in the stock's pullback phases.
What The Bears See
Amgen's valuation is a problem for the bears: the price-to-book comes in at 4.39, price-to-sales comes in at 5.51 and the "cheap on the surface" P/E of 15 (based on 2015 estimates) is problematic when compared to sales growth estimates of 2.5 percent and EPS growth estimates of 7 percent.
A relatively high debt-to-equity ratio of 136.69.
Technically Take
Technicians note that Amgen shares appear to be in a routine bull market pullback -- an "abc" downside correction to be specific -- with a "correction support" of $137.80. As long as that level holds as support, Amgen should be in for even more upside in the near future. In that case, the next upside mile-marker would be $150.61. If support level at $137.80 breaks, however, the technicians note that the stock would likely be in for a test of $130 and possibly even the $124-$125 area, where the long-term uptrend line comes into play.
At some point, a giant company with limited short-term growth prospects will have to see some more serious downside action. As the market participation has been largely dominated by quant-driven computers, however, low beta stocks in solid uptrends like Amgen are likely to continue to see buying interest.
Stock chart:


Posted-In: Long Ideas Technicals Trading Ideas
View Comments and Join the Discussion!