3 Cheap Biotech Stocks Analysts Love: Ohr Pharmaceutical Inc, Merrimack & Amicus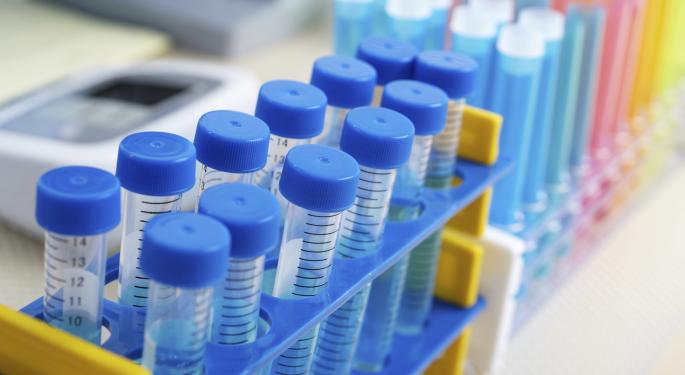 There have been a lot of biotech stocks popping lately, for one reason or another.
Larger companies are purchasing other biotech companies, several are receiving FDA approval for drugs in their collective pipelines, and others are being upgraded due to future prospects. Any one of these scenarios could cause a biotech stock to jump, so what do the analysts think? Let's take a look.
The first of the three stocks that showed up in a "Buy" scan is Amicus Therapeutics, Inc. (NASDAQ: FOLD).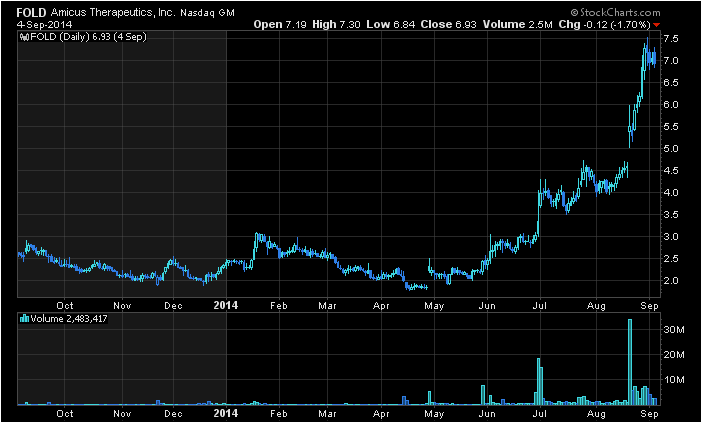 It sure looks as if someone likes Amicus. Since breaking through $3 in June, the stock has more than doubled in price.
Next up is Merrimack Pharmaceuticals Inc (NASDAQ: MACK).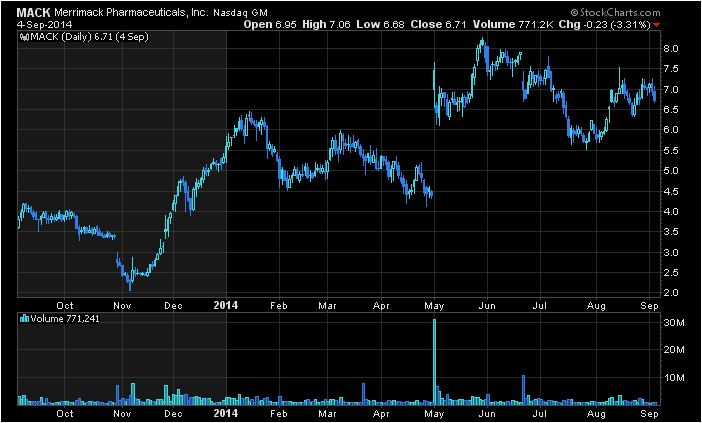 Although Merrimack hasn't jumped off the charts recently like Amicus has, the company currently has three Buy ratings and three Strong Buys from analysts. So, it could be worth watching for a break higher.
Related Link: Top 5 Performing Biotech Stocks Of 2014
The final stock worth mentioning is Ohr Pharmaceutical Inc (NASDAQ: OHRP).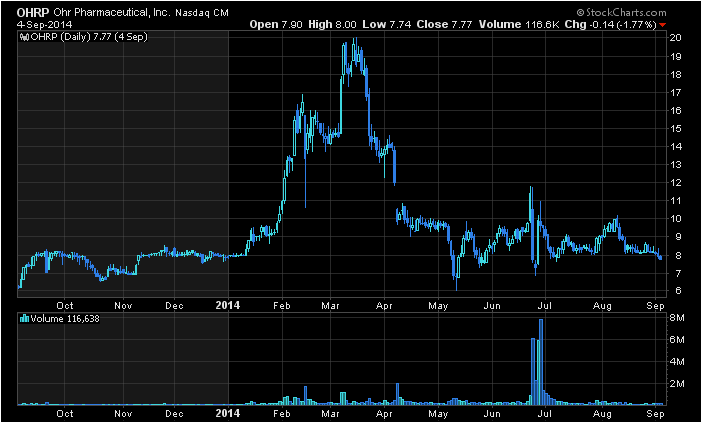 The chart of Ohr looks bad especially after breaking below $8, but Brean Capital just recently raised its price target on the stock to $34.
Analyst ratings and opinions are not an end all be all indicator, though it's still important to keep track of which companies are in Wall Street's good graces.
The screening criterion utilized to identify these three stocks was one that isolated biotech stocks trading between $5 and $10/share with at least 500K/shares per day (90 day average volume).
Disclosure: At the time of this writing, Christian Tharp CMT had no position in the equities mentioned in this report.
Tags: Biotech Stocks
Posted in: Long Ideas Trading Ideas Best of Benzinga