2 Companies Helping Develop The Biggest Rocket Ever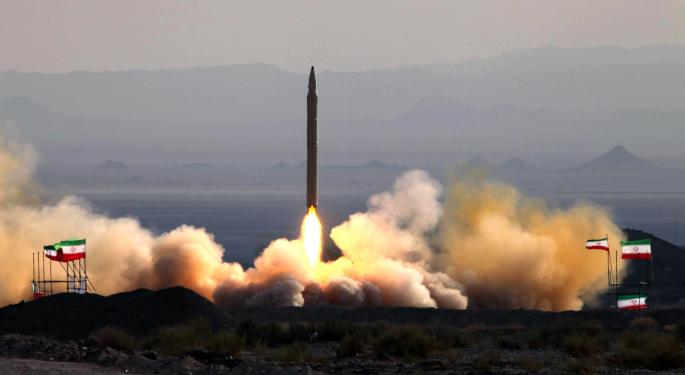 The space program is getting bigger. Really big.
United Launch Alliance, a privately-held joint venture that includes industrial giants Lockheed Martin Corporation (NYSE: LMT) and The Boeing Company (NYSE: BA), is developing the next generation of rockets to be used in the U.S. space program.
Two new boosters, part of NASA's upgraded Space Launch System (SLS), can lift payloads of 70 and 130 tons, the largest ever, into orbit. The new SLS is expected to debut in 2018. Either rocket can carry more than the previous record-holder, the mammoth Saturn V.
Related Link: What These 5 Defense Contractors Are Spending To Lobby Congress
Both Lockheed and Boeing have the needed experience to get the job done.
Boeing
Boeing was the system integrator for the highly successful Saturn V launch vehicle, which was used in the Apollo program. Space makes up a small portion of the company's present business, so while the program might be highly visible, it probably won't impact the balance sheet all that much. The space and network segment generates about nine percent of revenue and 12 percent of net income for the company.
Most of Boeing's fortunes are tied to commercial aviation, which will see lots of growth over the next 20 years or so. Several new aircraft are under development or currently flying. The 737 Max and a new 777 wide-body are scheduled to debut by the end of the decade, and Boeing has received more than 1,000 orders for the high-tech 787 Dreamliner, which has been flying for a few years. These aircraft will likely generate cash for the company and positive returns for shareholders.
Lockheed
Lockheed was the prime contractor for the huge external fuel tank, which was used to store liquid oxygen and liquid hydrogen for the space shuttle launch system, the previous version of the SLS. The company also is the supplier for the new manned NASA crew vehicle, which is also under development. An unmanned version of that vehicle will also be part of the first test flight for the launch system.
Space is a bit more important for Lockheed, generating 16 percent of net revenue and 18 percent of overall profit, but the key for the company is the troubled F-35 Lightning II, the military's fifth-generation fighter. If Lockheed can be successful on that program, investors could be rewarded for many years to come.
What It Means
Each system from the United Launch Alliance is larger than anything else previously used to move men and machines into orbit.
However, while the program will probably get a lot of press, investors may want to pay attention to other more important products coming out of the two companies as well.
Posted-In: Long Ideas Tech Trading Ideas Best of Benzinga
View Comments and Join the Discussion!