3 Reasons To Write Covered Call Options On ConocoPhillips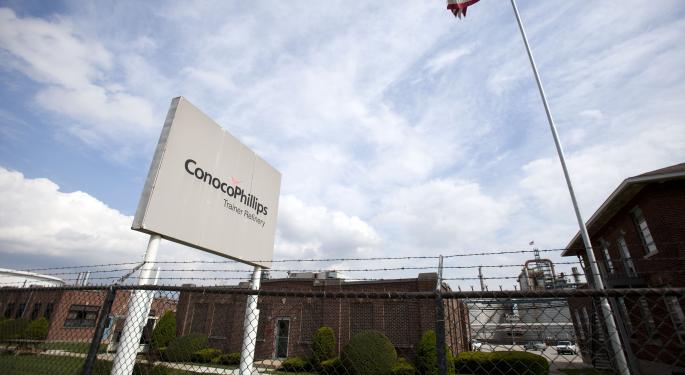 It has been good being a shareholder of major oil firms like ConocoPhillips (NYSE: COP), Exxon Mobil (NYSE: XOM), Occidental Petroleum (NYSE: OXY) and many others.
The bull market has lifted the equity prices higher, and oil's new role as a safe haven asset has made the companies even more valuable. The dividend income, traditionally strong as it is for the sector, has been even more rewarding. This has been especially true for ConocoPhillips, which is up more than 23 percent for 2014.
That makes it an ideal time to write covered call options on ConocoPhillips.
While up for the year, however, the rise is slowing down for ConocoPhillips. It is down for the last week of market action. The stock is trading at its year high. Earnings are predicted to fall. If that happens, so should the stock price.
Considering The Options
That is the first reason to write covered call options, which gives the buyer the right, but not the obligation, to purchase the shares at a determined price that is higher within a time period. It does not look like ConocoPhillips will be rising much more. That means that the call options will most likely expire worthless. Options expert Dr. Joseph Louro notes that this happens the great majority of times.
The next reason is that the seller gets to collect the dividend income.
Related: 5 British Blue Chips For Your Portfolio
ConocoPhillips has a dividend yield of 3.22 percent, topping the 2.69 percent of ExxonMobil. It is also higher than the 2.85 percent yield of Occidental Petroleum. The shareholders will continue to collect during the term of the option contract.
The last is that writing covered call options is a low-risk strategy.
Louro, who is the head of Investview (OTC: INVU), emphasizes this as the overall appeal of this strategy. Many buyers of options do it for hedging purposes.
Hence, the option as a hedge in an overall risk management program.
For ConocoPhillips stock owners, writing covered call options is very appealing. It is a low risk strategy, according to Dr. Louro. In addition, the dividend income will not be missed.
Posted-In: covered call options Dr. Joseph Louro OilLong Ideas Options Economics Markets Trading Ideas Best of Benzinga
View Comments and Join the Discussion!