4 Stocks To Trade In The Wake Of Tuesday's Economic Data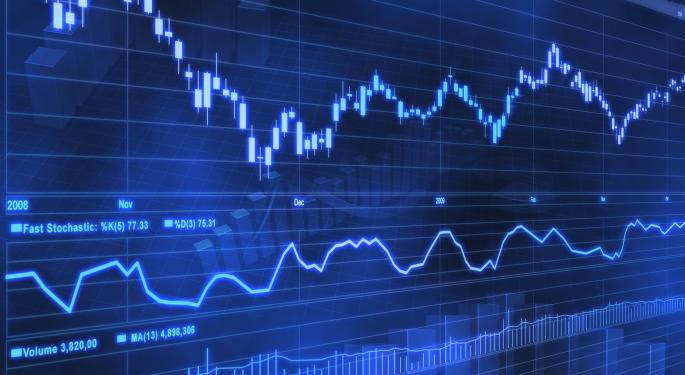 A number of key economic reports were released on Tuesday, including the Case-Schiller 20-city Index, new home sales, and consumer confidence data.
Many of the stocks that moved based on these reports will likely continue to be attractive names to trade throughout the rest of the week.
The two most relevant sectors relating to this data are housing and retail.
At the conclusion of Tuesday's trading session, the SPDR S&P Homebuilders ETF (NYSE: XHB) was unchanged and the SPDR S&P Retail ETF (NYSE: XRT) had fallen 0.70 percent.
This compared to a loss of nearly 120 points for the Dow Jones Industrial Average and a 13 point, or 0.63 percent, decline for the broader S&P 500.
Housing Getting Stronger
The news was mostly good on the housing front.
On Monday, existing home sales data showed that in May sales were on pace for an annual rate of 4.89 million U.S. homes. This came in well ahead of the consensus estimate calling for a 4.80 million pace and was significantly higher than the 4.66 million rate recorded in the prior month.
Related Link: 3 Restaurant Stocks That Have Outperformed So Far in 2014
On Tuesday, the Case-Shiller 20-city index, which measures the value of residential real-estate in 20 major metropolitan areas, registered a strong gain of 10.8 percent in April. Unfortunately, however, this came up short of consensus expectations calling for an increase of 12.4 percent compared to the year-ago period.
New home sales for May beat expectations, however, coming in at an annualized rate of 504,000 versus expectations of 440,000. The final economic report of significance was the June consumer confidence number, which climbed to 85.2 compared to 82.2 in the prior month. This beat consensus estimates of 84.0.
Affected Stocks
Below, Benzinga takes a look at four stocks that moved based on Tuesday's economic data and should continue to be active throughout the trading week.
Ryland Group (NYSE: RYL)
The vast majority of homebuilding stocks rose on Tuesday in the wake of the strong sales data despite a sell-off in the broader market. The leader in the sector was The Ryland Group, which recorded a gain of 2.20 percent on heavier than usual volume.
The shares also recorded a modest gain on Monday and have been more active than normal over the last week. Nevertheless, year-to-date, Ryland has fallen more than 10 percent, significantly underperforming the broader market and the housing sector as a whole.
Longer-term, RYL has been a strong and steady gainer since getting crushed in the wake of the mortgage collapse. In fact, since the beginning of 2012, this name has jumped almost 150 percent. On a fundamental basis, the stock continues to appear quite attractive as revenue, net income and margins have all recorded significant gains over the last 3 years. In its most recent fiscal year, Ryland notched sales of $2.141 billion and net income of $379 million.
Related Link: 5 Stocks To Heat Up Your Portfolio This Summer
Looking ahead, analysts are projecting revenue growth of roughly 24 percent in fiscal 2014 followed by a gain of 20.50 percent in fiscal 2015.
Hovnanian Enterprises (NYSE: HOV)
Like its counterparts, Hovnanian also recorded a solid gain on Tuesday even though the Dow shed more than 100 points. The stock closed the session up better than 1.50 percent to $4.54 on nearly twice its average daily volume.
Over the last 52-weeks, shares have traded in a range between $4.35 and $6.80 so the stock remains near the bottom of its recent range. Unlike Ryland, Hovnanian has never really recovered from the housing crisis. In 2005, this name hit a high above $72 before beginning a long and devastating decline. Today, the company has a market-cap of just $662 million.
In 2014, the homebuilder's struggles have continued with the stock plunging more than 30 percent, despite the fact that operations are geographically diversified and consist of six segments that span a good part of the country. In addition to its primary business of building houses, Hovnanian also operates a financing arm, which has added to its troubles.
Despite the stock's slide, fundamentals have been steadily improving over the last 3 years and the company recorded a profit of approximately $31 million in fiscal 2013 versus a loss of more than $66 million in the prior year. Analysts are modeling earnings per share of $0.10 on revenue of $2.02 billion in fiscal 2014 followed by a jump to $0.41 per share on sales of $2.38 billion in fiscal 2015.
Williams-Sonoma (NYSE: WSM)
This name should benefit from both rising consumer confidence and a housing market on the mend more than most retailers. Williams-Sonoma is a multi-channel retailer of home furnishings and other products for the home.
On Tuesday, the stock climbed 0.30 percent to close near a new 52-week high of $70.95. Shares also reacted very positively on Monday in the wake of the upbeat existing home sales numbers. From a technical perspective, WSM's chart is very attractive and it appears that the stock may be setting out for a further breakout in the coming weeks.
Year-to-date, shares have climbed almost 22 percent, far outpacing the broader market. At current levels, Williams-Sonoma has a market-cap of just under $7 billion and the shares are yielding around 2 percent.
Related Link: 5 Stocks Expected To Grow In the Natural Foods Industry
Although valuation is far from cheap, it does not appear to be completely unreasonable, particularly if the housing market continues to strengthen. At last check, the shares were trading at a trailing P/E of approximately 24, a forward P/E of 20 and a PEG ratio of 1.60. On a fundamental basis, WSM also appears very attractive as the company has recorded year over year gains in both net income and revenue for five straight years.
Looking ahead, analysts are projecting more of the same. Revenue is expected to climb 7.60 percent in fiscal 2015 and 6.80 percent in fiscal 2016 while earnings per share are estimated to rise around 13 percent in both years.
American Eagle (NYSE: AEO)
While most apparel retailers fell on Tuesday despite the better-than-expected consumer confidence data, American Eagle bucked the market trend and climbed more than 1 percent. The company was once a high-flier on Wall Street, but fickle teenage fashion trends have caused it to fall out of favor.
Over the last year, AEO has lost more than 35 percent, including a decline of 18 percent in 2014. At current levels, the stock is trading at a trailing P/E ratio of roughly 38.5 and a forward earnings multiple of 16.
While the share price decline has certainly been painful for existing investors, it has led to the stock having a very compelling dividend yield of roughly 4.30 percent. Although new investors may have to worry about the possibility of the dividend being cut, the attractive yield makes it much easier to hold the shares while waiting for a turnaround at the company.
The reason for the stock's decline over the last year is falling revenue, net income and margins. Between fiscal 2013 and 2014, sales declined around 5 percent from $3.476 billion to $3.306 billion. Furthermore, Wall Street analysts are projecting that sales will fall another 2.60 percent in fiscal 2015 followed by a gain of roughly 2 percent in 2016. On a bright note, earnings per share are expected to climb by almost 34 percent to $0.75 by fiscal 2015.
View Comments and Join the Discussion!
Posted-In: Case Schiller Consumer Confidence Existing Home SalesLong Ideas Top Stories Economics Movers Trading Ideas Best of Benzinga