Exclusive: InterDigital CEO William Merritt On Licensing, Litigation And The Ongoing Apple-Samsung Battle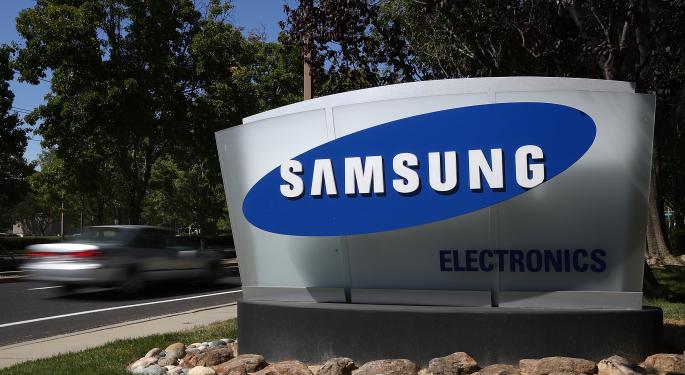 After a year of litigation, Samsung (OTC: SSNLF) finally worked out a new licensing deal with InterDigital (NASDAQ: IDCC).
InterDigital filed a complaint with the U.S. International Trade Commission in January 2013, alleging that Samsung had engaged in "unfair trade practices by selling for importation into the United States, importing into the United States and/or selling after importation into the United States certain 3G and 4G wireless devices…that infringe up to seven of InterDigital's U.S. patents."
The new agreement resolves all pending litigation between the two parties.
Related Link: Should Startups File Patents Or Stick To Trade Secrets?
"We're very happy with the agreement with Samsung," William Merritt, President and CEO of InterDigital, told Benzinga. "Samsung has actually been a long-time licensee of ours. They've been a licensee since '96. We had gone through a period last year where they were not licensing. Now we were able to renew the license on very favorable terms. It's a 10-year deal."
Investors rallied on the news, creating the biggest bump in two years.
"It's always great to have the market leader acknowledge the fine work done by our lab and our engineers," Merritt continued. "We didn't disclose the financial terms of the deal, [but] we issued guidance…that updated our revenue projections for the quarter, incorporating all of the new information that we had. It shows that we're in a very, very strong position going forward on revenue."
Total revenue is expected to fall within the $172 million to $210 million range. Recurring revenue should be between $72 million and $80 million, while past sales should end up somewhere between $100 million and $130 million.
Merritt did not say why Samsung temporarily stopped licensing InterDigital's patents, but he said that his company tends to view litigation "as a last resort when other things have failed."
"I think here, obviously, Samsung is the market leader," Merritt explained. "They sell a lot of phones. It can be a big gap between the parties in terms of financial expectations because there's just a lot of phones in play. The nice thing that litigation does is it puts a time frame on discussions and provides the parties [with a way] to kind of exercise each other's positions as well.
"The result was that we signed a solid agreement with them after spending about a year and a month or two in litigation."
Getting Apple On Board
According to the Financial Times, InterDigital hopes that Apple will now sign a licensing agreement with the company.
Merritt did not discuss that potential deal with Benzinga, but he did analyze the ongoing patent dispute between Apple and Samsung.
"That's really not about patents and royalties, it's really about product positioning and strategic positioning," he said. "You can have these one-offs where you have real strategic battles. Litigation is a tool in that battle. But they gotta find a way to find a strategic answer between them."
Merritt said that the other types of disputes (those that involve pure licensing and payments or royalties) tend to resolve themselves more readily.
Related Link: Patent Laws Are Hurting Tech Companies Like Apple - Will Wall Street Be Next?
He also dismissed the perception that the industry has not been able to manage its way through these legal discussions.
"I think the opposite is actually true," Merritt added. "Samsung itself has been involved with a number of settlements that they've been very successful in licensing with third parties. We've been successful as well. We recently did a deal with Fujitsu."
Searching For Answers
Lawsuits shouldn't always be viewed as a sign that things have gone wrong. According to Merritt, there are times when lawsuits are "just a tool that parties use to get to the right answer."
"I think [our agreement] with Samsung is just another reflection of an industry that actually does a very good job of respecting intellectual property," said Merritt. "And when you do that, one of the things that comes out of respect for intellectual property is even more innovation, which ultimately benefits the consumer greatly.
"Think about how powerful that device is in your hand right now. It's a remarkable piece of machinery in your hand. I think that's because of the great work done by folks and the respect given to intellectual property."
Disclosure: At the time of this writing, Louis Bedigian had no position in the equities mentioned in this report.
Posted-In: Apple InterDigital International Trade Commission ITCLegal Management Tech Interview Best of Benzinga
View Comments and Join the Discussion!