3 Ways To Profit From Consolidation In The Consumer Goods Industry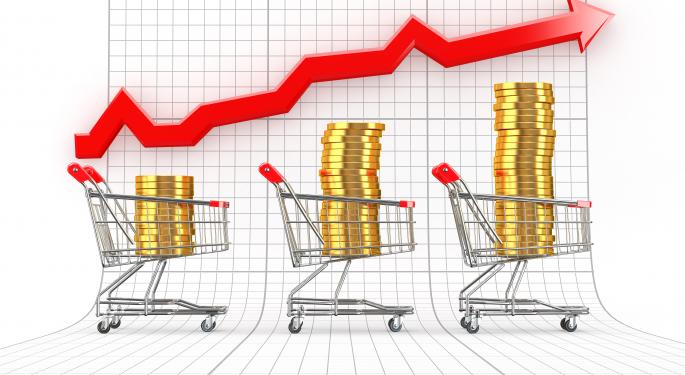 With the consumer class expanding around the world, there has been a great deal of corporate activity in the companies that cater to this sector. For example, Coca-Cola (NYSE: KO) is spending billions on acquisitions just to expand its presence in China.
There are three ways for investors to profit from corporate transactions in the consumer sector.
Exchange traded funds offer a broad approach to the sector.
The SPDR Consumer Discretionary Select Sector ETF (NYSE: XLY) and the Vanguard Consumer Discretionary ETF (NYSE: VCR) are the two largest. Both have done well over the last year, a testament to the demand for consumer sector securities.
For that period, Vanguard Consumer Discretionary ETF is up more than 24 percent. Over that time segment, SPDR Consumer Discretionary Select Sector ETF has risen more than 22 percent.
Related: 3 Ways To Profit From Merger Activity In The Pharmaceutical Sector
Both top the Dow Jones Industrial Average's (NYSE: DIA) average increase of under 16 percent.
Blue chips stocks in the sector offer an attractive way to gain.
Coca-Cola and PepsiCo (NYSE: PEP) are on the prowl due to the declining sales in soda. Unilever (NYSE: UL) is a British consumer goods giant with a solid global presence that has a strong record in buying labels such as Ben & Jerry's Ice Cream.
Companies like Coca-Cola, PepsiCo, and Unilever will be the ones to provide solid dividend income in the consumer sector, too.
Buying into the targets is an even better way to profit.
There has been much speculation that Apple (NASDAQ: AAPL) will go after Netflix (NASDAQ: NFLX) due to its brand in the consumer market.
The food sector has many tempting small caps such as The Original SoupMan (NASDAQ: SOUP) and Tootsie Roll (NYSE: TR).
If you want to profit from the voracious appetite of Chinese and Indian consumers for gold, a small cap exploration firm with prime holdings in North America like Premium Exploration (NASDAQ: PMMEF) is alluring.
With soda sales falling for Coca-Cola and Pepsi-Cola, High Performance Beverages (OTC: TBEV), an energy drink, will become more attractive, as laid out in a previous article on Benzinga, along with four other small cap beverage companies.
As a note to investors, small caps will not be included in the larger ETFs so check the holdings.
Consolidation in the consumer goods sector will continue, to be sure. While there are three main ways to prosper, the sector is so large there are many stocks to consider.
Posted-In: AppleLong Ideas Emerging Markets Small Cap Analysis Commodities Economics Markets Trading Ideas Best of Benzinga
View Comments and Join the Discussion!