Keeping Up With The Workforce: An Interview With Labor SMART CEO Ryan Schadel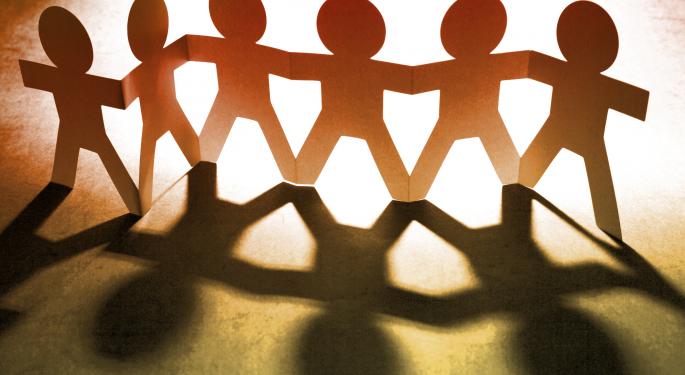 Labor SMART (OTC: LTNC) is a unique company, with revenues of more than twice its market capitalization. To head up such an entity takes a unique individual; someone who has to virtually live the company to achieve those numbers.
Meet Ryan Schadel, Chief Executive Officer of Labor SMART, a firm in the booming demand labor segment of the growing staffing industry.
In an interview at his office, Schadel laid out Labor SMART's plan to expand across the country; a plan that is apparently working. Last month, the company reported record revenue of well over $1 million -- a huge increase for the last 12 months.
"We were extremely pleased with this revenue growth in February," Schadel said, "as weather-related events negatively impacted many businesses in the U.S., particularly in our primary areas of operations during the month."
Related: 25 Year-Evolution Of Startups With Brad Feld
"Without these weather-related issues," he added, "we believe our revenue would have been much higher than what was achieved. This marks the fifteenth straight month we have recorded a year-over-year increase in revenue at branches that were open at least one year."
Labor SMART now has a market cap of around $7 million, with revenues of over $14 million that, according to Yahoo! Finance, are increasing at a quarterly rate of 148.40 percent.
Those stunning numbers can be attributed to Labor SMART's philosophy, which Schaedel describes as being focused "heavily on the sales process. We are psychologically behind every sale."
Schadel says 70 percent of companies use temporary help -- and for Labor SMART, the "secret sauce as getting them to order from us." And that average order, according to Schadel, is two workers for four days. That is hardly the typical order, however, as some jobs last for much larger periods and involve many more workers. But there are some assignments, such as roofing work, that Schadel avoids due to the liability risks.
As for the company's goals, "we want to be at 100 offices nationwide with $150 million in revenue," he declared. "At present, we are on target for 2017. We are also looking to be self-insured by 2015, which will greatly reduce workers compensation costs by 60 percent, or $1.5 million."
Schadel came up the ranks in the staffing industry. He is very hands-on in all operations, which should delight the investor community. Even more bullish is the company's compensation system, that awards top producers with stock options.
The competitive advantage of Labor SMART is its revenue breakdown: distributed across the nine states of operations, with construction and hospitality as the two biggest components. Workers are tested and pre-screened to insure that Labor SMART can meet the needs of its clients.
"I am very satisfied with the quality of our workforce," Schadel says. There is never any problem attracting employees -- because, as Schadel remarked, "If we build it, they will come."
But there are many misconceptions about those who work in the staffing industry.
Schadel pointed out that about one-fifth of those people choose project work, preferring its flexibility. They also like working for Labor SMART due to how the company treats their workers. '"We keep it very simple," he says. "If you over-specialize, you over-complicate."
This approach also allows Labor SMART to focus on broad targets."We avoid niches as we need stable revenue," he added.
This increasing stream of stable revenue has not gone unnoticed by Wall Street.
Zacks Small Cap Research recently compared Labor SMART to TrueBlue Inc (NYSE: TBI), which has a market cap of $1.16 billion and is up more than 35 percent for the last year of market action. This bullish assessment, according to Zacks, is based on "continued same-store sales gains, a growing footprint, increasing scale and margin improvement."
Posted-In: Long Ideas News Small Cap Analysis Small Cap Economics Small Business Media Trading Ideas Best of Benzinga
View Comments and Join the Discussion!