Can 'Divergent' Overcome Its Significant Lack Of Twitter Chatter?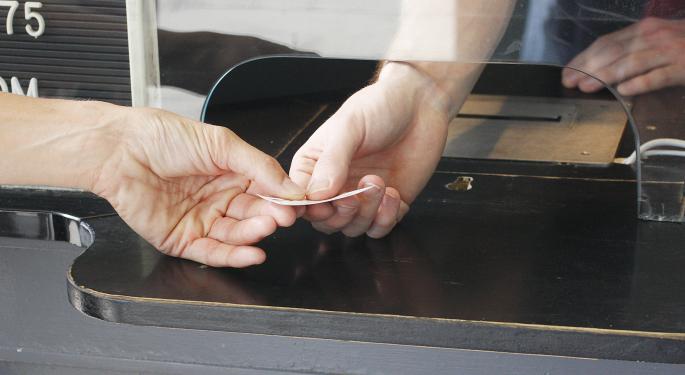 Lionsgate's (NYSE: LGF) next big franchise might not be as big as some investors expect.
Set for release Friday, March 21, Divergent looks like the kind of film that viewers might expect from the studio that produced The Hunger Games. But while the film itself may be entirely different, the familiar trailer -- and the perception that comes with it -- could deter moviegoers this weekend.
In January, BoxOffice.com predicted that the film will open at $50 million. The Hollywood Reporter said that it could earn close to $70 million.
Both estimates are attainable, but investors won't know how well the film has performed until the studio estimates are released on Sunday. The final numbers won't be published before Monday afternoon.
Related: Will Lionsgate's 'Divergent' Become The Next 'Twilight' Or 'Hunger Games'?
In the meantime, investors are turning to other indicators (such as social media) to see if they can figure out how the film will perform. One such investor is Chris Camillo, author of Laughing at Wall Street. He successfully used social media to predict the success of The Hunger Games and invested in Lionsgate. His due diligence paid off, so Benzinga was eager to know what Camillo thought of Divergent.
"First let me tell you that I have not done the extensive diligence on of Divergent that I had done on The Hunger Games," Camillo told Benzinga. "And that's really because I believed that the market…I think there's more eyes on Divergent than there were on The Hunger Games. Naturally I'm less interested in it. I'm gonna make an assumption that they're probably a little bit better this time around at pricing this in."
Regardless, Camillo has kept an eye on Divergent and its success (or lack thereof) in social media.
"The Twitter volume for Divergent going into this opening week is running about 20 to 25 percent of what The Hunger Games had," said Camillo.
Put another way, Divergent has 75 to 80 percent less Twitter volume than The Hunger Games.
"Now it's very difficult to build out a correlation between raw tweet volume and opening weekend grosses, but it's one data point that you should be aware of," Camillo added.
Book Sales
Thus far, Camillo said that Divergent book sales haven't been on par with The Hunger Games.
"But at the same time you'll routinely see Divergent being cited for book sales based on its Amazon rank," said Camillo. "And I think that's being underrated a bit because the Amazon ranking of Divergent, when you just look at e-books, is considerably higher. Over the past couple of years since The Hunger Games came out, e-books have become a more important metric."
Crossover Appeal
Even if Divergent book sales continue to climb, the franchise will still have some hurdles to overcome.
"Crossover appeal -- that's the big question, right?" said Camillo. "Does Divergent have the crossover appeal that The Hunger Games had? That's where my hope for Divergent really got deflated."
Related: Lionsgate's 'The Hunger Games: Catching Fire' Grosses $167M Worldwide Bringing Global Total to $573M
Camillo believes that The Hunger Games had a "strong crossover appeal" because of its positive critical reception, "which Divergent obviously does not have."
"I know it's early and there's only a handful of Rotten Tomatoes reviews that have come in," Camillo added. "But both the trade magazines are in, some fairly significant Rotten Tomatoes reviews are in, and they're not great. They're not terrible, but they're certainly not good enough to give Divergent critical crossover appeal that would bring people who would not ordinarily watch a film like Divergent out of the house and into the theater because they think it's an 'it' movie. That is extremely important."
If Camillo had seen Rotten Tomatoes reviews in the 80 to 90-plus range (which is what The Hunger Games and its sequel, Catching Fire, received), he said that he would have been intrigued. But that wasn't the case.
"I would say the over/under number to disappoint and to have it start to impact Lionsgate's stock is $50 million," said Camillo. "If it comes in under $50 million this weekend we have a problem for Lionsgate. I think between $50 million and $70 million, I think that's your range of expected opening box office. Anything over $70 million or $80 million, certainly I think that's a positive for the stock."
Camillo does not think that a $50 million (or less) opening would be a "disaster" for the franchise. However, he does believe that it could hurt the "long-term impact of Lionsgate's stock."
"At that point, at under $50 million, Divergent no longer becomes a significant and substantial long-term driver to replace The Hunger Games and Twilight," said Camillo.
Could The Third Film Flop?
Last but not least, Camillo said that while Divergent fans are excited for the first two films, they are not as interested in the third chapter -- for obvious reasons.
"So you really need this film to come out of the gate strong if you're gonna perceive this to be a Hunger Games/Twilight replacement," Camillo concluded. "That's what investors want."
Disclosure: At the time of this writing, Louis Bedigian had no position in the equities mentioned in this report.
Posted-In: Chris Camillo commentsLong Ideas News Short Ideas Rumors Tech Trading Ideas Best of Benzinga
View Comments and Join the Discussion!