Exclusive: 1-800-FLOWERS.COM CEO James McCann On Organic Growth And Acquisitions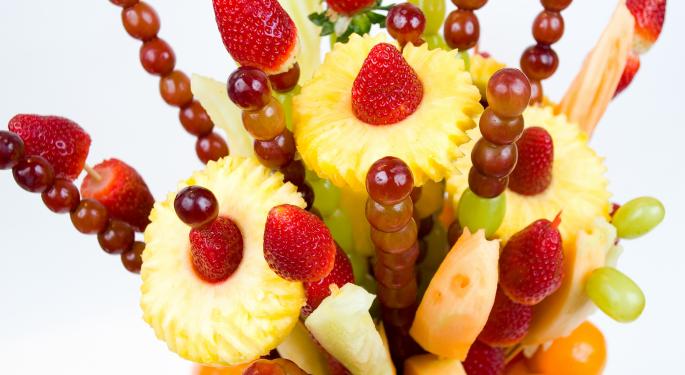 In an exclusive interview with Benzinga, James McCann, CEO of 1-800-FLOWERS.COM (NASDAQ: FLWS), discussed the strength of the company's balance sheet and its role in future growth.
To identify growth opportunities, McCann explained that 1-800-FLOWERS.COM engages with the customer to identify products that would help them better interact with the important people in their lives.
"If there is a product they would like to use or think they would like to use that we can test, then it's appropriate to develop those organically," said McCann. "Or if there is a terrific product that our customers like that we are not in yet, we are open to acquisitions, but they have to fit the profile of the kinds of products that we want: a company that has the opportunity to grow synergistically with the assets we bring to the table, including our fulfillment system, our customers, and our technology platform."
As noted in the first part of this series, the addition of fruit bouquets may have potential to revolutionize the company organically. McCann commented, "I think it will be one of the primary [areas of] growth in sales generators in the years to come as we get more and more coverage because we're training all florists to make these bouquets."
Related: 3 Reason's To Be Bullish On Collector's Universe
Regarding acquisitions, what stands out is the degree that 1-800-FLOWERS.COM interacts with acquired companies. Rather than purchasing the technology or customer base, McCann looks at it as a two-way relationship. For example, because 1-800-FLOWERS.COM has a large chocolate business, it can help a newly-acquired chocolateer with supplying and manufacturing, while the acquiree provides a quality product that can be launched on a national scale.
Stay tuned for McCann's discussion of the role social and mobile will play in the company's future.
Shares were last trading up one percent on the day to $5.30.
This is the second of a three part series. Read McCann's comments on Valentines Day 2014 here.
Posted-In: Long Ideas News Short Ideas Small Cap Analysis Management M&A Trading Ideas Interview Best of Benzinga
View Comments and Join the Discussion!