Bernie Madoff Shows The Importance Of Understanding The Economic Moat Of An Investment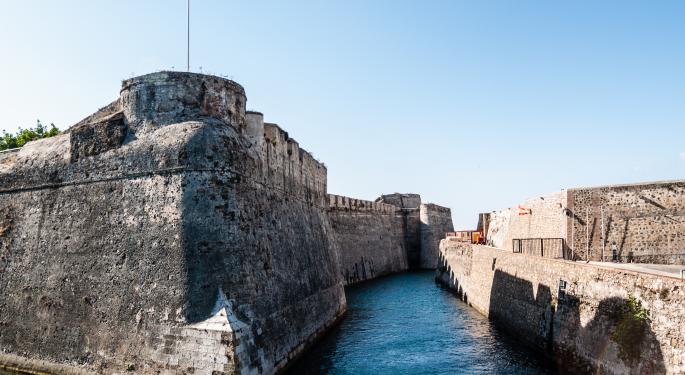 A recent article on Benzinga reported on how scandals can be rewarding for investors.
Often times, companies having problems that do not affect the core business model or essential operations will recover. That happened in recent years with BP, Caterpillar, and Wal-Mart, among others. The Bernie Madoff scandal, back in the news again due to JP Morgan (NYSE: JPM) having to pay a $2 billion fine for failing as his prime banker, should also benefit investors.
There was absolutely no reason for any investor to go with Bernie Madoff.
His scam was to offer steady, solid returns, rather than gaudy numbers as do other con artists. But Madoff's numbers were nowhere near as good as Warren Buffett's. Not to mention that Warren Buffett was better known and ran a publicly traded corporation. That offered transparency in the operations of Berkshire Hathaway. It also provided for complete liquidity when a decision was made to sell part or all of the investment. None of those features could be found with Bernie Madoff when he was still preying on widows, orphans, and others in the free world.
Related: Bernie Madoff Proves the Value of Dividend Stocks
That it is wise and profitable to invest with Warren Buffett is hardly a novel concept, and it certainly does not require a Bernie Madoff to confirm it.
What Madoff does prove, yet again, is the importance of understanding economic moats in investing. Economic moats are the attributes of an asset that protect it from the forces of time and competition. An investment should not be made unless the economic moat is clearly understood.
That is one of the many reasons for the success of Warren Buffett.
As Buffett explained about the economic moat of Coca-Cola (NYSE: KO): "Coke's moat is wider now than it was 30 years ago. You can't see the moat day by day but every time the infrastructure that gets built in some country that isn't yet profitable for Coke that will be 20 years from now. The moat is widening a little bit. Things are, all the time, changing a little in one direction or the other. Ten years from now, you will see the difference. Our managers of the businesses we run, I have one message to them, and we want to widen the moat. We want to throw crocs, sharks and gators—I guess—into the moat to keep away competitors. That comes about through service, through quality of product, it comes about through cost, sometimes through patents, and/or real estate location. So that is the business I am looking for."
It is almost a crime itself to write about Bernie Madoff and Warren Buffett in the same article, least of all the same sentence.
But Madoff never preached the importance of an economic moat in investing to his victims. When an investor cannot understand the economic moat of an asset, that is a buy that should not be transacted. There are many out there who wish that had been the case with Bernie Madoff.
View Comments and Join the Discussion!
Posted-In: Bernie MadoffLong Ideas News Technicals Legal Management Economics Trading Ideas Best of Benzinga