Is Coca-Cola 'Faith-Based' Investing at its Finest?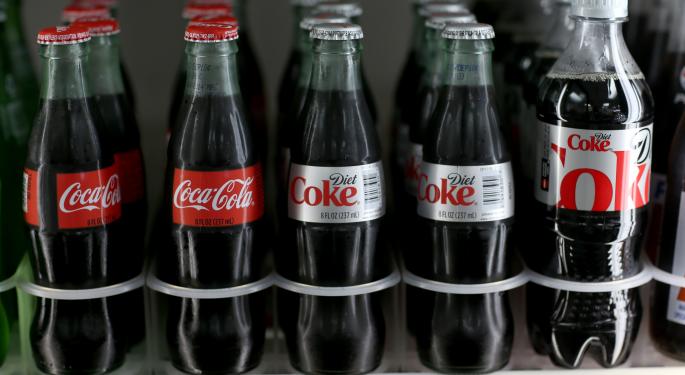 Writing in the January 2014 issue of Kiplinger's Personal Finance magazine, columnist James Glassman picked Coca-Cola as a favorite for 2014.
Although it did not perform as well as other selections for 2013, Glassman described Coca-Cola (NYSE: KO) as, "a classic 'faith-based stock' that is a great company that, by means that can't be predicted, always seems to bounce back."
There are others like that, such as ExxonMobil (NYSE: XOM) and Wal-Mart (NYSE: WMT).
Glassman is very bullish on the culture of Coca-Cola, which allows it to "always solve its problems." About the brand of Coca-Cola, legendary investor Warren Buffett once stated that, "If you gave me $100 billion and said, 'Take away the soft-drink leadership of Coca-Cola in the world', I'd give it back to you and say it can't be done."
Not surprisingly, Buffett is a major shareholder of Coca-Cola.
The dividend yield of Coca-Cola is always a major attraction for Glassman. For the average member of the Standard & Poor's 500 Index, the dividend is around 1.9 percent. The dividend yield for Coca-Cola is nearly 50 percent higher, at about 2.8 percent.
In addition, Coca-Cola, as with ExxonMobil and Wal-Mart, are "Dividend Aristocrats;" publicly-traded companies that have increased the dividend annually for at least 25 consecutive years. A history like that is something for shareholders to put faith in that it will happen every year. Again, not surprisingly, Warren Buffett is a major shareholder in Wal-Mart and ExxonMobil, too.
Coca-Cola does not simply rely on faith to produce its 18.50 percent profit margin (about twice the market average).
It spends more than others to advertise and market. A current campaign in China entails billions to increase its presence, through acquisitions, if needed.
Like Glassman, investors should have faith that Coca-Cola will outperform others with long term returns for its shareholders.
Posted-In: Long Ideas News Dividends Dividends Emerging Markets Restaurants Markets Media
View Comments and Join the Discussion!