Call Up China Mobile for Growth, Value and Income Investing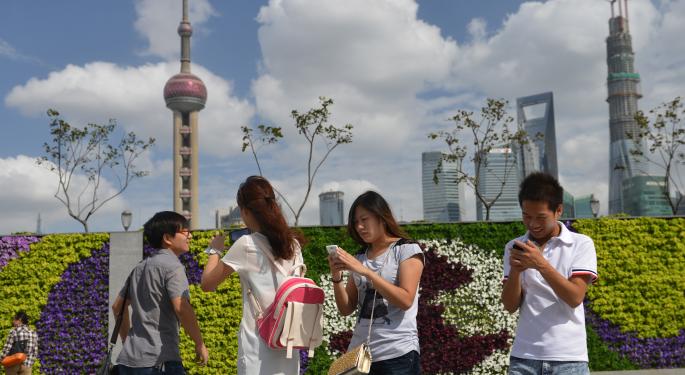 China Mobile (NYSE: CHL) is the world's largest mobile phone company.
It is the gateway to the Chinese market for Apple (NASDAQ: AAPL) and the iPhone. On recent news of a deal with China Mobile, the share price for Apple rose. Due to its market position, China Mobile is appealing for growth, value and income investing.
Even though China Mobile has more than 700 million subscribers, there is growth ahead.
On the macro level, it will come from increasing affluence in China and other parts of Asia. The ruling Communist Party in China is focusing on having the economy respond more to consumer demand. That will increase the sales of mobile phones. When China Mobile reaches a deal with Apple for the iPhone, that too will generate plenty of growth.
Sales growth is over 20 percent on a quarterly basis, so impressive numbers are already being registered.
For value investors, it is almost impossible to put a number on the position of China Mobile.
It controls entree to the country with almost one-fifth of the world's populace, that has more purchasing power than any other nation. China also spends more on luxury goods, which means status items -- and that is always the latest iPhone. For attractive valuation features that can be quantified, China Mobile has a price-to-earnings ratio of 10.48.
The 3.58 percent dividend yield should please income investors.
Related: Is an Italian Car Company the Best Way to Profit from China's Economic Growth?
At present, the average dividend for a member of the Standard & Poor's 500 Index is around 1.9 percent. China Mobile also has a large amount of cash ($18.44 per share) and a low payout ratio (under 27 percent). There is plenty of cash flow to increase the dividend for the shareholders of China Mobile.
Growth, value and dividend investors should all put a premium on the low, low beta of China Mobile.
With a beta of 0.22, it is nearly 80 percent less volatile than the stock market as a whole. As detailed in another article on Benzinga,  research has proven that low beta stocks perform the best over time. With its growth, value, and income features, it's no wonder that China Mobile has such a low beta that it would not make sense to sell such an attractive stock.
That there is little reason to sell, means there are very compelling factors for growth, value, and income investors to buy shares of China Mobile.
Posted-In: mobile phoneLong Ideas Dividends Emerging Markets Technicals Markets Tech Trading Ideas
View Comments and Join the Discussion!