Time to Chow Down on this High-Dividend, Low-Debt Takeover Candidate?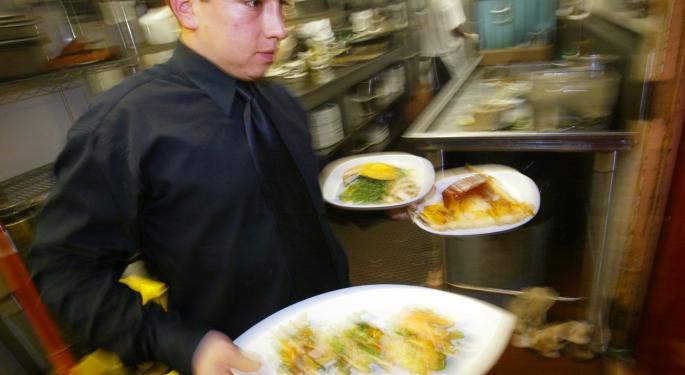 In February of this year Landry's, which operates McCormick & Schmicks, Chart House and several other restaurant chains, made an offer of $22 a share for Ark Restaurant Corp. (NASDAQ: ARKR).
Ark Restaurants, which owns and operates 19 restaurants and bars, along with 22 fast food concepts and catering operations in the United States, is now trading under that price at around $21.20. If that is not enough to entice investors, the company has the very appealing features of a high dividend with low debt, while increasing its earnings per share significantly this year.
Ark Restaurants is not a chain like McDonalds (NYSE: MCD) or Wendy's (NASDAQ: WEN). Ark Restaurants operates under trade names that suit the value locations selected to generate the highest return. That is, working by three critical measures: dividend yield, earnings-per-share, and debt.
Even though it is a small cap, it tops both McDonald's and Wendy's in the dividend yield. Ark Restaurants has a dividend yield of 4.71 percent. For McDonald's, it is 3.39 percent and 2.34 percent for Wendy's.
For this year, earnings per share are increasing by more than 50 percent for Ark Restaurants. McDonald's posting earnings-per-share growth of 1.70 percent. It is down 75 percent for The Wendy's Company.
The debt situation is also more favorable for Ark Restaurants.
The debt-to-equity ratio for the New York-based group is 0.13. For McDonald's, it is 0.89. Wendy's has a debt-to-equity ratio of 0.77.
Low debt and a high dividend makes Ark Restaurants appealing as an acquisition target. Buyers favor firms with little debt. The funds dedicated to financing the dividend can be used for other purposes, if the company is purchased by another.
Ark Restaurant is up more than 30 percent this year. For investors, it is attractive as either a takeover candidate or a well-run company that provides a solid total return for the long term.
Posted-In: Long Ideas News Dividends Small Cap Analysis Technicals Restaurants Small Cap Trading Ideas
View Comments and Join the Discussion!