Strong Stuff: Diageo Holds Up Well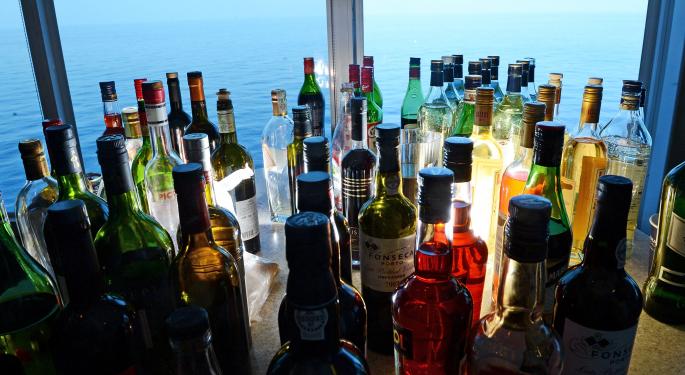 Every investor is looking for that bullet-proof stock -- the one that holds up  against any and all market and economic conditions while others plunge.
As detailed before in a previous article on Benzinga, these equities with low betas have been proven to be high reward investment vehicles over time. While some, such as Wal-Mart (NYSE: WMT) and Coca-Cola (NYSE: KO) are well known, Diageo (NYSE: DEO) has also proven itself to be a rewarding holding for long term investors no matter what the market brings.
Diageo is a leader in the wine and distilled spirits industry, and headquartered in London, England.
While recession-proof, there can be brand shifting during adverse economic conditions for wine and liquor. But due to its presence in emerging markets, Diageo held up reasonably well during the Great Recession. While falling in price, it did not collapse anywhere near the market as a whole.
What protects the total return of its shareholders is a dividend with a history of growth.
At present, Diageo pays a dividend of around 1.75 percent, while the average for a member of the Standard & Poor's 500 Index is around 1.9 percent. But the dividend growth rate for Diageo over the past five years has been 2.35 percent. For its industry, it has been a negative 1.23 percent.
That is very bullish for the future income stream of Diageo shareholders.
Even more positive are the company's financials. Its profit margin is 38.10 percent. That is about four times the average profit margin for a member of the Standard & Poor's Index -- and more than double the profit margin of Coca-Cola. The profit margin for Diageo is also about nine times that for Wal-Mart. Diageo's profit margin is much better than that for its industry, too.
Sales growth for Diageo is also double digits for the most recent quarter. That should remain strong, as more emerging market growth will lead to more consumers buying Diageo brand name labels such as Johnnie Walker and Ketel One.
"With nearly half of its revenues coming from emerging markets, where the growing middle class is enamored with recognizable high-end liquor brands, Diageo is a solid bet for long term growth,"noted Jim Kee, President of South Texas Money Management.
Another factor, shows that Diageo is able to stand up under a hail of unfavorable economic factors, is its low beta. Stocks with low betas have been proven to do better over time. There is no reason for a shareholder to sell if the stock if it is a good investment. As a result, the beta is below average as fewer sell than for high beta stocks.
The beta for Diageo's sector is 0.85, 15 percent lower than that for the stock market, as a whole. Diageo's beta is about 10 percent lower than that for its sector. Both Wal-Mart and Coca-Cola have below average betas, too. For long term investors, Diageo should continue to pour strong returns.
Posted-In: Long Ideas News Dividends Dividends Emerging Markets Economics Markets Trading Ideas
View Comments and Join the Discussion!