Is the Phone Company the Best Way to Profit from Growth in the Philippines?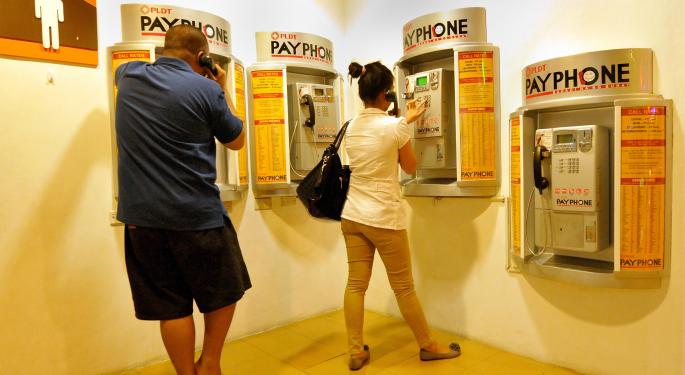 Before Typhoon Haiyan hit, the Philippines' economy was outperforming others in Asia. Capital Economics expects the country's third quarter gross domestic product (GDP) growth to be 7.5 percent.
The economy is also expected to recover quickly from the storm's devastation, making Philippine Long Distance Telephone Company (NYSE: PHI) more attractive to long-term investors than other communications firms such as BCE (NYSE: BCE), AT&T (NYSE: T) and Verizon Communications (NYSE: VZ).
Investing in the phone company has always been rewarding in emerging market countries. For national security and economic stability reasons, the communications network is always favored. That makes for a very appealing investment opportunity. And that is certainly the case with Philippine Long Distance Telephone Company.
On a quarterly basis, its sales growth is over 25 percent. Earnings-per-share growth for the same standard is in the triple digits. Clearly that is unsustainable, but analysts expect earnings-per-share growth to average 7.48 percent annually over the next five years.
Not only does that top the increase registered this year and the past five years for Philippine Long Distance Telephone Company, it beats the projected growth over the next half decade for BCE (3.90 percent) and AT&T (6.47 percent).
The Philippines should rebound strongly, as the regions affected by the typhoon account for less than one-fifth of GDP. Reconstruction spending should also provide a boost to GDP. There should also be foreign aid and increased remittances from those working abroad to help families and others recover.
Overall, as noted by Daniel Martin of Capital Economics, "the government has a strong fiscal position from which to fund reconstruction spending."
Now trading at around $60 a share, the mean analyst target price for Philippine Long Distance Telephone Company over the next year is $77.54. As with many phone companies, there is a healthy dividend of 3.34 percent to increase the total return.
The relative strength index rating is 18, which means Philippine Long Distance Telephone Company has been oversold. For long-term investors, Philippine Long Distance Telephone Company should be an ideal way to profit from not only one of the fastest growing economies in the world, but also an economic rebound.
Posted-In: Long Ideas News Dividends Dividends Emerging Markets Economics Markets Trading Ideas
View Comments and Join the Discussion!