Gold iPad Up Next For Apple? How To Trade It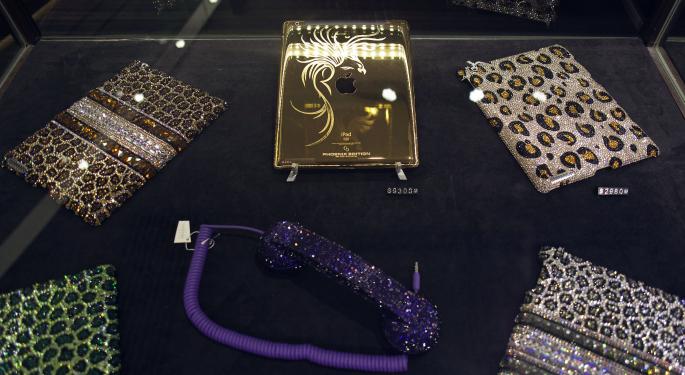 Gold iPad Up Next?
Looks like Apple (NASDAQ: AAPL) has finally decided to mix things up a bit adding new colors beyond white and black to its iPhone line. Apple is seeing some success now from its new gold iPhone. Will this trend spill over into its iPads?
Most likely.
Apple has been through a lot this year, as shares made new lows in the $380s and now are rebounding and back to the $480s. Right now shares are on a pullback, which has them hovering over the 20- and 50-day moving averages. This looks very bullish.
The pullback has been gradual on easing volume. When a stock is going through a bullish pullback or bull flag, investors want volume to reduce. This is a good showing that buyers and sellers are reaching an equilibrium, and that the selling is traders taking a profit and not dumping shares.
Volatility is elevated, but it is not high. This is going to be due to earnings coming up October 22 (not confirmed), which is going to be under 30 days out. What is interesting is realized volatility moving greater than its implied volatility.
Since Apple is getting some movement, traders should want to get long gamma (movement). This is a bullish call, so traders are going to want to choose to get long call spreads.
The vertical spreads we are looking at is the October 480/500 call spread. This would be a good choice if investors get a quick move higher out of Apple. $500 will be the desired target for an Apple bounce. If traders can put this trade on for a $7.80 debit, they stand to make $12.20 per spread, a risk-reward of 1.56. If Apple breaks below the 20- and 50-day moving averages, traders should close this spread out.  
Want more options ideas?  Follow us on Twitter @Bullogic and Facebook/Bullogic
Posted in: Long Ideas Technicals Options Markets Trading Ideas Best of Benzinga