ETFs Look To Break Post-iPhone Blues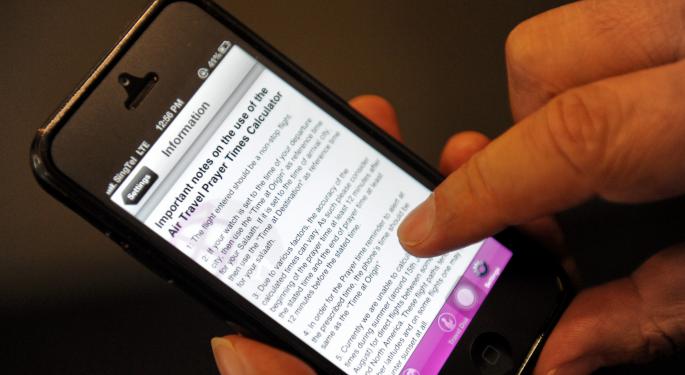 Tuesday's big news in the technology sector will likely center around the unveiling of Apple's (NASDAQ: AAPL) iPhone 5S, the latest version of the popular smartphone.
New product announcements from Apple have arguably lacked the excitement that was so evident when Steve Jobs was at the helm of the tech giant.
Then again, recent entrants to shares of Apple probably are not complaining. Once again the largest U.S. company by market value, Apple has surged nearly 24 percent since the start of July. That has been good news for some of the ETFs with large allocations to the stock, but investors in those funds will undoubtedly be hoping Apple ETFs perform far better this year after the new iPhone is unveiled than after the iPhone 5 was introduced last year.
Related: A Guide To How Some ETFs May React Post-Apple Earnings.
Technology Select Sector SPDR (NYSE: XLK)
The $11.4 billion XLK is the largest tech ETF by assets and it does not skimp on its exposure to Apple. California-based Apple is 15.3 percent of XLK's weight, nearly double the weight given to XLK's second-largest holding, Google (NASDAQ: GOOG).
Although Google and several other top-10 holdings in XLK have been solid performers this year, XLK still ranks in the bottom half in terms of year-to-date performance among the nine sector SPDRs ETFs. That alone is enough reason for investors to hope XLK improves upon the eight percent loss it incurred after the iPhone 5 was introduced through the end of 2012.
Vanguard Information Technology ETF (NYSE: VGT)
With an expense ratio slightly below XLK's, the Vanguard Information Technology ETF is cheapest tech ETF on the market today. Its exposure to Apple is also well below that of XLK. VGT allocated 12 percent to the iPad maker at the end of the second quarter, according to Vanguard data.
Large ETF weights to Apple have been proven to cut both ways and when the stock fell after the iPhone 5 introduction, VGT was a little less bad than XLK with a loss of 7.1 percent. Year-to-date, VGT has outpaced XLK by 340 basis points.
iShares U.S. Technology ETF (NYSE: IYW)
Although the iShares U.S. Technology ETF has over $2.4 billion assets, the fund is often forgotten in the Apple ETF conversation. That is perplexing because IYW has one of the largest Apple weights of any ETF.
At 18.3 percent, Apple is nearly twice as important IYW's fortunes as Google, the ETF's second-largest holding. Since IYW often carries the larges weight to Apple, it was noticeably worse than XLK or VGT after last year's iPhone announcement, losing 8.7 percent through the end of the year. However, IYW has gained 6.6 percent since the start of July.
iShares Global Tech ETF (NYSE: IXN)
How "global" the iShares Global Tech ETF is is up for debate because the U.S. accounts for 78 percent of the fund's country weight. Still, IXN is a credible Apple ETF because, like XLK and IYW, the stock's weight in this ETF is nearly twice that of Google. Apple accounts for 13.6 percent of IXN's weight, more than triple the allocation given to the company's bitter rival, Samsung.
IXN fell 4.2 percent through year end following the 2012 iPhone introduction, but the $557.4 million ETF is up 11.3 percent this year.
For more on ETFs, click here.
Disclosure: Author does not own any of the securities mentioned here.
Posted-In: Long Ideas News Sector ETFs Short Ideas Events Global Intraday Update Markets Best of Benzinga
View Comments and Join the Discussion!