Despite Market Closure, Philippines ETF Trading As Expected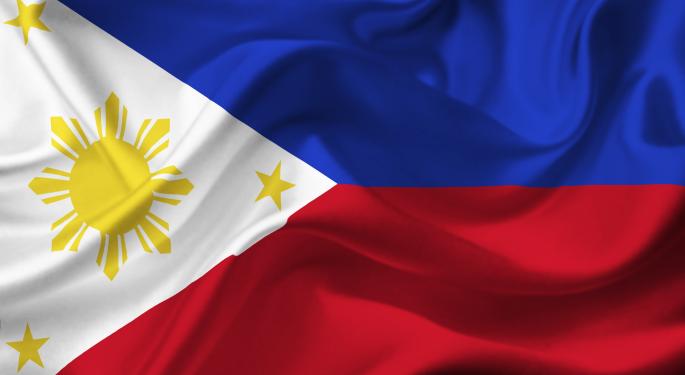 Those that actively follow the ETF industry probably remember the late-June scenario where a volatile market caused the iShares MSCI Emerging Markets ETF (NYSE: EEM) to trade at what was perceived to be a wide discount to its underlying net asset value.
Long story short, some ETF critics were concerned and flummoxed by how EEM, the second-largest emerging markets ETF in the world, could trade at a 6.5 percent discount to NAV. First, that was a mistake because that calculation was derived by using EEM's closing price on Thursday and its NAV from Wednesday.
Second, vilifying EEM, or any ETF that holds a basket of international stocks, for trading at a discount to its NAV fails to consider a simple fact. That being many global markets, particularly in the emerging world, are closed while U.S. markets open. About 75 percent of EEM's basket is closed while U.S. markets are open, according to ETF Trends.
"In other words, it's meaningless to compare the share price of any international equity ETF with a stale NAV based on stock prices that are several hours old," an article in USA Today astutely noted.
The EEM back-story is relevant because markets in the Philippines have been closed due to flooding the past two days, but the $372.9 million iShares MSCI Philippines ETF (NYSE: EPHE) has been trading in the U.S. as it does everyday U.S. markets are open.
Related: Philippines ETF Could Be Durable Compared To Rivals.
Shares of EPHE, the lone ETF devoted exclusively to the rapidly-growing Southeast Asian economy, have traded lower the past two days and on above average volume. However, the ETF's declines can be attributed to some dour performances by comparable funds tracking Indonesia and Thailand, two markets the Philippines is often compared to.
Said another way, those expecting some extraordinary, headline-grabbing scenario to materialize with EPHE once Philippine exchanges open again may be disappointed because the fund is behaving exactly as it should be.
"EPHE continues to trade, however as markets in the Philippines have been closed due to typhoons, the NAV of EPHE continues to use the most recent available prices from the Philippines market, which are the prices from Friday (August 16)," said Paul Lohrey, Head of US iShares Product Design and Quality, in an email to Benzinga.
While some media accounts of the behavior of emerging markets ETFs in stressed markets painted EPHE in a somewhat negative light in late June, the data indicate the ETF rarely trades at alarming premiums or discounts to NAV. In June, there was the 4.7 percent premium and a 6.2 percent discount that critics latched onto. However, in the previous three quarters, the biggest premium to NAV EPHE sported was less than 1.6 percent and a discount comparable to the one seen on June 20 was only seen on one other occasion, according to iShares data.
Again, markets in the Philippines have been closed for the first two days of this week, but that has not brought undue stress on EPHE or the fund's shareholders.
"EPHE is serving as a price discovery vehicle while the local Philippines market is closed -- EPHE was down just over 3% yesterday, while the NAV did not move," said Lohrey.
For more on ETFs, click here.
Disclosure: Author does not own any of the securities mentioned here.
Posted-In: Long Ideas News Short Ideas Emerging Markets Emerging Market ETFs Global Markets Trading Ideas Best of Benzinga
View Comments and Join the Discussion!