MANU Doesn't Win When Manchester United Wins (MANU)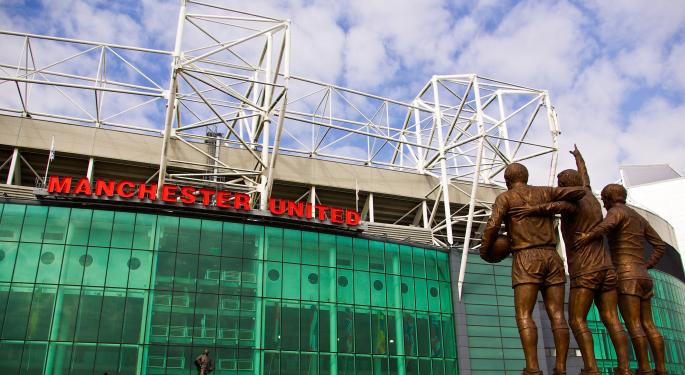 Manchester United (NYSE: MANU) is the self-proclaimed world's biggest soccer club. As such, it would make sense that the stock rallies when the team wins: but does it?
#NotWinning
Unlike Charlie Sheen, the stock is not necessarily winning despite the team winning. Manchester United won the Barclays Premier League title last season while making a run to the first knockout stage of the UEFA Champions League. With the start of the new season just over a week away, does the stock rise on wins and fall on losses?
The team had a great record, but the stock performance largely ignored this. Looking at daily price performance from a year ago through the end of last season, it can be seen that the stock actually, on average, fell on days after the team won. On average, the day after a win, the stock fell 0.07 percent.
Related: Beliebe It: This Canada ETF Rocks.
It is important to note that the stock did outperform on days after wins relative to those after losses. The stock fell 0.85 percent on average on days after losses, representing an alpha of the win vs. loss strategy of 0.78 percent.
Notably, buying on days after wins performed no better than buying on non-match days. On days where the team had not played the day prior, the stock fell on average 0.07 percent, exactly the same as the return on days after a win.
Homefield Advantage?
Did homefield advantage carry over into the stock performance? Sadly, the answer is categorically no. In fact, on days after a home match, the stock fell on average 0.31 percent compared to the average decline after away games of 0.08 percent.
Breaking up the data a little more granular, it can be seen that:


After a home win, the stock generally fell 0.11 percent.

After an away win, the stock was flat.

After a home loss, the stock fell 1.01 percent.

After an away loss, the stock fell 0.69 percent.

After a draw, the stock was notably flat.
What Does It Mean?
The stock apparently does not really move with the performance of the team, as shown by the data despite their being some outperformance on days after wins compared to days after losses. However, it shows the true commercial power of the club and its ability to drive investor focus onto the financials and off of the pitch.
Posted-In: Barclays Premier League Manchester United UEFA Champions LeagueLong Ideas Short Ideas Markets Trading Ideas Best of Benzinga
View Comments and Join the Discussion!