Time To Tune Into Cablevision? (CVC)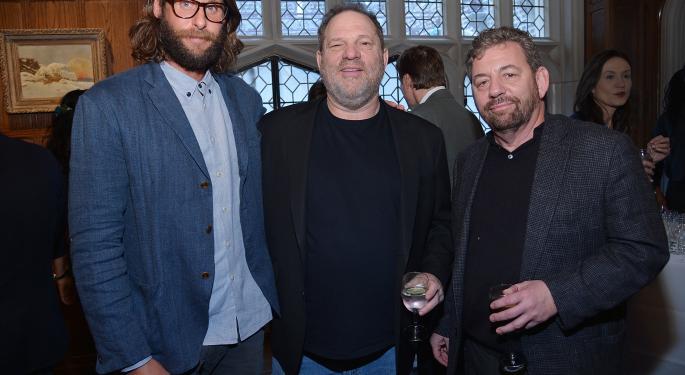 Cablevision Systems (NYSE: CVC) is a little known company that has come under the spotlight.
Cablevision falls behind some of the bigger cable names such as Time Warner (NYSE: TWC), Liberty Media (NASDAQ: LMCA), and Comcast (NASDAQ: CMCSA).  At the end of June, Charter Communications (NASDAQ: CHTR) announced they would like to scoop up some of the other cable providers.
Who doesn't want a giant cable monopoly?
This news was powerful enough to send the cable companies higher pushing Cablevision Systems up 27 percent in the matter of a week.  The talks so far have been mostly static noise since no real deal has been made.  
Time Warner has also expressed that they are not looking to sell out to another company.  This news, however, was enough to bring in the momentum into this cheap stock, and now we are forming a bull flag which can carry this stock higher.
So what is a bull flag? 
A momentum stock is a stock that has made a big run in short period of time.  The stock will then begin to rest before making another big run.
Remember, when stocks go on big runs, it leaves a lot of people on the sideline.  These stocks gain a lot of attention which causes people to look for entries to get in.  The bull flag setup give us the ability to get in, and knowing how to trade these setups will set you apart from most traders.
Most traders have the ability to spot and trade a horizontal price resistance or support.  These are the easy breakouts and breakdowns.  However, most traders are not trained to see flags and triangles and when they do, they are not sure how to trade them.
There are two parts to a bull flag: the flag pole and the flag itself.  When a stock goes on a large run it creates the flagpole  The flag poles are usually straight up, but don't have to be.  The stock will get pushed into overbought territory that lets you know that run may be over.  Once people begin to take their profits you will get a pullback from the highs.
This gradual pullback will form the flag.  You will want the pullback to be formed with low volume.  That way you just have traders locking in profits and not dumping all their shares.  The perfect flag is formed over three to five days, but flags can be formed over weeks of pulling back.  
So how to play this?
Cablevision is setting up with a beautiful bull flag.  Investors are seeing a low volume pullback, and the stock is no longer overbought.  Now there are several ways to play a bull flag but our favorite is an aggressive method.  We want to play it as soon as it breaks the trendline.  
When looking at Cablevision our entry on this trade is 19.04 which would be one penny over the trendline.  We can keep our stops in the 18.60's which would be right under the flag.  If the flag fails then we don't want to be long this stock.  
Now, a target on this trade is going to be more difficult.  This is a relatively new area for it to be trading.  Last time it was here it was crashing down from its IPO.  
Posted in: Long Ideas Technicals Trading Ideas Best of Benzinga