Whitney Tilson: Facebook, IAC Takeover Target Could Be the Next Netflix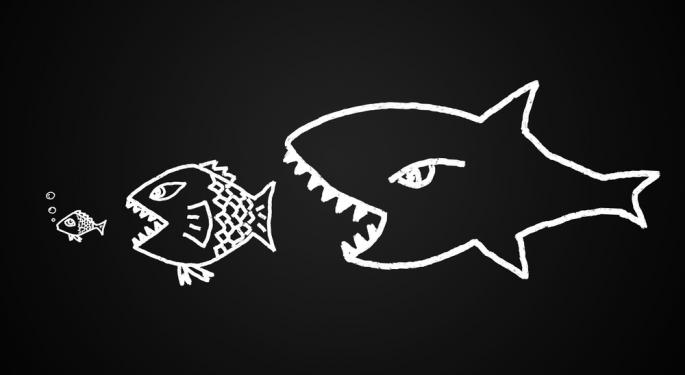 Nine months ago, Netflix (NASDAQ: NFLX) traded for less than $55 a share.
Any major company -- Amazon (NASDAQ: AMZN), Comcast (NASDAQ: CMCSA), Microsoft (NASDAQ: MSFT) or any other firm that has an interest in content deals and millions of subscribers -- could have purchased the firm at that low rate.
Time Warner (NYSE: TWX) could have purchased Netflix and merged it with HBO for the ultimate streaming and pay-TV network. With content deals from some of the largest studios in the world, HBO and Netflix could have practically started an entirely new cable service together to compete against the likes of Comcast and its own former sibling, Time Warner Cable (NYSE: TWX).
"When Netflix was down at $50 a share, I said, 'My downside here is that I can think of a dozen companies that would love to own $30 million subscribers at $100 a sub for Netflix,'" Whitney Tilson, founder and Managing Partner of Kase Capital, told Benzinga.
Over the last seven months, Netflix quadrupled in value and is now trading at more than $217 a share.
"I've never had a stock quadruple in seven months -- to my recollection, any way -- in my 15 years of managing money," said Tilson. "Back in October, I said, 'I think Netflix this decade is going to be like Amazon (NASDAQ: AMZN) last decade -- a stock that can just continue to grow and grow with enormous upside optionality.'
"Amazon has been a 20-bagger. The stock has been a 20-bagger over the last 10 years, and at the time when Netflix was at $54 a share, I said, 'Netflix could have that kind of upside.'"
Tilson said that he has been trimming Netflix "all the way up."
"But I've kept it at a three and a half to four percent position the whole time," he said. "I still own it in that position because the company is just going gangbusters and I think that if they continue to execute, it still has a lot of upside."
If Netflix is the next Amazon, who will be the next Netflix?
It could be Spark Networks (NYSE: LOV), which owns and operates JDate and Christian Mingle.
"I said, 'This is my next Netflix,'" said Tilson, recalling his speech at the Eighth Annual Spring Value Investing Congress. "It's an Internet-based company with a lot of upside optionality that is sacrificing current profits and taking all of the profits from an existing cash cow business and [pouring] it into a growth opportunity."
In that sense, Tilson said that it is "very much like Netflix."
"But this is a much, much smaller company," he said. "It only has about a $170 million market cap. Basically it's two websites -- they're almost identical websites targeting two different markets. JDate targets Jewish singles who are looking to meet other Jewish singles. That business has been around for well over a decade and has had a 90 percent or higher contribution margin for the last 11 years running, but it hasn't grown. It is the very definition of a beautiful cash cow. JDate is worth [Spark's] entire market cap."
And JDate is just one part of the package.
"What you're getting for free, in my opinion, is Christian Mingle -- which is just like JDate but aimed at the market of Christians in the United States, which is 30 times larger than the Jewish market," Tilson added. "In the last three years since they really launched this website, it is now substantially larger than JDate. It is not yet profitable because they take all of their cash flow and plow that back into growth. Last quarter, revenues grew 45 percent year-over-year, so it's on a very steep and rapid growth trajectory. Using even the most conservative assumptions, I think Christian Mingle is worth the market cap of the company as well. So if you add JDate and Christian Mingle, I think you have a double on the stock.
"Christian Mingle -- if you think it's addressing a market 30 times the size of JDate, has upside, you know, that could make this stock a multi-bagger. It's a pretty exciting growth story, but it's a very small cap stock."
If you think that Facebook (NASDAQ: FB) -- which received a new social dating app this week -- could be a problem for Spark Networks, you might be missing the big picture.
"I think Facebook is actually a big plus for Spark Networks (not a negative) for two reasons," said Tilson. "Spark Networks gets a lot of its leads and people to market to because when people sign up on Facebook and enter information about themselves -- like whether they're single, whether they're Jewish, whether they're Christian. Facebook sells that information to Spark Networks and then Spark Networks then markets to those people. That's been going on a long time.
"Secondly, if you're Facebook and you're looking to get into this business, Facebook has a -- off the top of my head -- what, $50 billion market cap?* Spark Networks has a $170 million market cap. Facebook paid a billion dollars for Instagram because it had a cool app that they could market to their members."
In other words, it would not be difficult for Facebook to pick up the company.
"I think Spark Networks [will] eventually get purchased by IAC (NASDAQ: IACI), which owns Match.com," said Tilson. "[IAC Chairman] Barry Diller absolutely loves Match.com. It's his favorite business in IAC. I think IAC is the most logical buyer for Spark, and it would be a tiny bite-sized acquisition."
IAC is not the only one that may be interested in acquiring Spark at some point in the future.
"The beauty is that I think Facebook would love to buy them," Tilson added. "I think Yahoo (NASDAQ: YHOO) or Google (NASDAQ: GOOG) would be great acquirers here."
*Note: Facebook's current market cap is at $64.5 billion.
Louis Bedigian is the Senior Tech Analyst and Features Writer of Benzinga. You can reach him at 248-636-1322 or louis(at)benzingapro(dot)com. Follow him @LouisBedigianBZ
View Comments and Join the Discussion!
Posted-In: Christian Mingle FacebookLong Ideas M&A News Success Stories Tech Trading Ideas Best of Benzinga