South Korea ETF Rises Modestly as BoK Joins Rate Cut Bonanza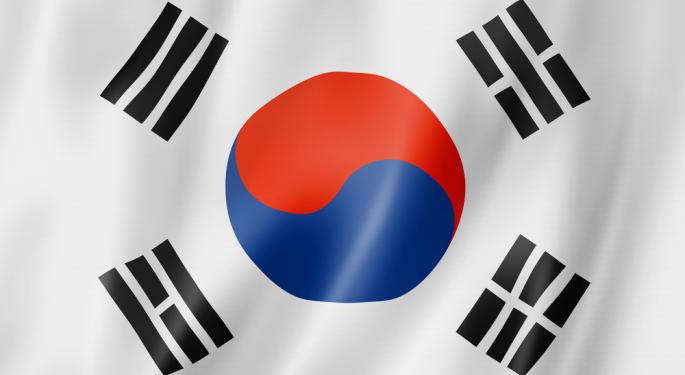 The iShares MSCI South Korea Capped Index Fund (NYSE: EWY), which celebrates is 13th birthday today, is trading slightly higher as traders digest news of a surprise interest rate cut from the Bank of Korea.
During Thursday's Asian session, the central bank lowered South Korea's seven-day repurchase rate to 2.5 percent from 2.75 percent, becoming the fourth global central bank in just the past two weeks to pare rates.
The news had the desired impact of pushing the South Korean won lower against the Japanese yen during the Asian session, but at 2.5 percent, South Korea has the same interest rate as New Zealand. That implies BoK has more room to cut, but it also implies the central bank has a long road ahead of it if it wants to win the battle against the rising yen.
Not to mention, enthusiasm for the rate cut waned quickly as JPY/KRW is now trading below 10.99. South Korea joined the rate cut deluge, following similar moves by central banks in India and Australia and the European Central Bank in recent, but South Korea is a special case. Export-dependent countries from Brazil to Germany have decried Japan's weak yen policy. South Korea is among that group and the weak yen has had a noticeable, adverse impact on EWY.
Heading into the start of trading Thursday, EWY was down nearly 10 percent year-to-date, making it one of the worst-performing ETFs tracking an Asian nation. Much of EWY's woes can be tied to the tumbling yen. The Japanese currency's fall against the won has accelerated in recent months. In late December, JPY/KRW resided around 12.75. Today, it is close to 11 and that is perhaps only because of the rate cut new.
Of course, that also means there is almost no correlation between EWY and an ETF such as the WisdomTree Japan Hedged Equity Fund (NYSE: DXJ). Going back to late September 2012, EWY's correlation to DXJ is all of 0.01, according to iShares data.
Likewise, though it may not be surprising either, EWY is not tightly correlated to the strongest Asian ETFs. For example, EWY's correlation to the iShares MSCI Thailand Capped Investable Market Index Fund (NYSE: THD) is just 0.28 dating back to September 30, 2012.
There is no denying South Korea's rate cut was necessary to protect its exporters. The won gained 4.7 percent against the yen in the first quarter and a 10 percent gain this quarter could trim South Korean exports 1.9 percent on a year-over-year basis.
South Korea's Ministry of Strategy and Finance has already acknowledged that as USD/JPY races toward 100, the country is "facing increasing threats the depreciating yen may bring to South Korea's exports."
EWY's tepid reaction to the rate cut news could be a sign traders are not convinced the Bank of Korea has the toolbox with which to compete with the Bank of Japan.
For more on ETFs, click here.
Posted-In: Long Ideas News Short Ideas Emerging Market ETFs Forex Events Global Intraday Update Best of Benzinga
View Comments and Join the Discussion!