Resurgent Chinese Internet Stocks Boosting These ETFs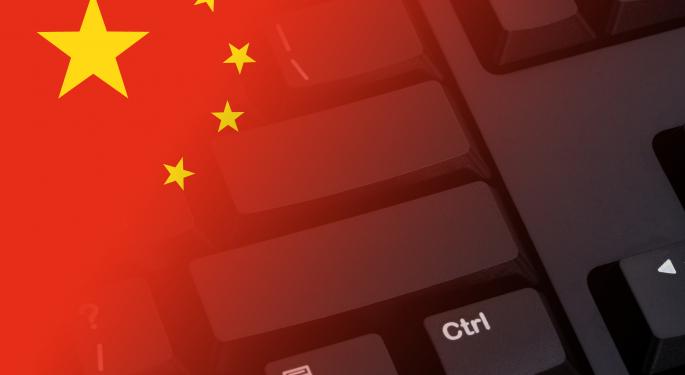 It seems like only yesterday that most Chinese Internet stocks not called Baidu (NASDAQ: BIDU) and a couple of other big names were left dead. Being the Amazon (NASDAQ: AMZN), Facebook (NASDAQ: FB) or Match.com of China, the world's largest Internet market, was not enough for some Chinese web names to draw favor among U.S. investors.
Actually, yesterday was a fine day for Chinese Internet stocks. While some of those names are succumbing to profit taking on Tuesday, there is no denying Chinese Internet stocks, broadly speaking, have been surging in recent weeks. So have two niche ETFs devoted to these stocks.
Often assailed for being too small, too narrowly focused or too thinly traded, the Guggenheim China Technology ETF (NYSE: CQQQ) and the Global X NASDAQ China Technology ETF (NASDAQ: QQQC) have been on fire in recent weeks. CQQQ, the larger of the two ETFs with $19.7 million in assets under management, was higher by 10.3 percent over the past month heading into the start of trading Tuesday. The Global X NASDAQ China Technology ETF, which has just $3 million in AUM, jumped 12.4 percent over the same time.
CQQQ is home to 39 stocks and its lineup is a mixed of U.S.-traded and Hong Kong-listed names. NetEase (NASDAQ: NTES), Sina (NASDAQ: SINA) and Baidu are the largest U.S.-listed stocks in CQQQ's lineup, combing for 21 percent of the ETF's weight. Tencent Holdings is the fund's largest holding with an allocation of almost 9.2 percent.
That trio of U.S.-listed Chinese Internet names are boosting CQQQ's fortunes. Over the past month, Baidu is the WORST performer of the three with a gain of 4.3 percent (prior to Tuesday).
Sina has surged more than 21 percent in the past month and that has turned out to be good news for QQQC, the Global X offering, because that stock is the ETF's largest holding at a weight of 8.75 percent. QQQC is home to 27 stocks and Sina, Tencent and Baidu combine for about 23 percent of the ETF's weight.
The fund's are not mirror images of each other. For example, QQQC features a 3.82 percent weight to Foxconn, the controversial assembler of some Apple (NASDAQ: AAPL) products, according to Global X data. The Guggenheim ETF does not feature Foxconn in its lineup.
On the other hand, Sohu.com (NASDAQ: SOHU), Giant Interactive (NYSE: GA) and Renren (NYSE: RENN) combine for 7.6 percent of CQQQ's weight. The Global X fund does not include Giant Interactive or Renren among its holdings. Neither ETF holds shares of online game maker Perfect World (NASDAQ: PWRD) and that is too bad because the stock has surged 28 percent in the past month.
Interestingly, neither ETF holds Ctrip.com (NASDAQ: CTRP), the Priceline.com (NASDAQ: PCLN) and one of the older U.S.-listed Chinese Internet stocks. Again, that is too bad because Ctrip has gained more than 10 percent in the past month.
On valuation, CQQQ is less expensive with a P/E of 12.5 and a price-to-book ratio of 1.8, according to Guggenheim data. QQQC has a P/E of 16.15, but a lower price-to-book ratio.
Cost-conscious investors can settle the debate by preferring the Guggenheim offering due to the fact that its current premium to its net asset value is just 12 cents compared to a premium of over $1 for QQQC.
For more on ETFs, click here.
Posted-In: Long Ideas News Sector ETFs Short Ideas Emerging Market ETFs Global Intraday Update Markets Best of Benzinga
View Comments and Join the Discussion!