Investors Are 'Looking Backwards' at AIG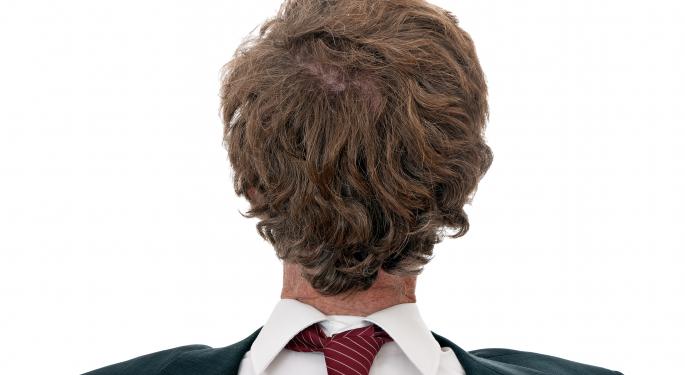 Are investors missing out on a great opportunity by avoiding AIG (NYSE: AIG)?
According to Evermore Global Advisors co-founder, CEO and CIO David Marcus, the answer is yes.
"Our largest holding today is AIG," Marcus told Benzinga. "I know a lot of value investors are starting to buy it. We've had it for a year or so, and we were there a little early. I love AIG. They're trading at a little more than 50 percent of book value. [It is] one of the great insurance companies."
Marcus said that he thinks most investors are "looking backwards" at AIG.
"They're looking at a company that's been bailed out by the U.S. government," he said. "It almost took down the entire financial system. People thought this was the most vile, horrible business out there. And yet if you look at it today, they've paid back the government and then some. The government has made a return on its investment. Taxpayers are out nothing. You have a very strong, aggressive management. You have a good balance sheet. You have excellent businesses."
AIG has also gotten rid of its "toxic assets," Marcus insisted.
"You have a cleaner, more focused, growing business," he added. "And because investors are so wishy-washy and don't know how to focus on it, it's had a decent move higher, but it's still -- in my view -- significantly undervalued."
Marcus has also become a fan of Burger King (NYSE: BKW).
"It's controlled by a group from Brazil and they're really transforming Burger King," he said. "They just restructured the whole menu. They've been cleaning up the [restaurants]. It's sort of like Wendy's (NASDAQ: WEN) -- the stores have faded quite a bit.
"These new shareholders are really restructuring Burger King. They doubled the cash flow in the last year. They've been managing it better. It's a turnaround situation, we think it's incredibly well-managed today. Burger King has been owned by about five different groups over the last 12 years. It's just been a hot potato. Now you have one owner, one main shareholder -- and they're really aggressively cleaning it up."
Domestic firms are not the only ones on Marcus' radar. He is also a big fan of European firms, especially those that serve emerging markets.
"We own a French conglomerate called Bollore," he said. "It is almost a 200-year-old conglomerate in Europe but they have huge assets in Africa. They control ports and containment terminals. They control palm oil and rubber plantations. So most investors negate, 'Oh, that's Africa, who cares about it.' Meanwhile, it's generating more profits than anything else and it's booming. So you're getting high-growth emerging markets at low-valued Europe. I find that highly attractive."
Bollore is just the beginning.
"If you and I go to Africa right now, we're gonna find valuations, the multiples are high, the rules and regulations are kind of lacking (they're different country by country), and they're not always designed to protect the shareholder, because they're evolving these rules still," said Marcus. "But if we can deal with a company in Europe that's been investing and building in Africa for over 100 years, is reasonably transparent, has international accounting standards and it's trading at a multiple…that's what I want."
Louis Bedigian is the Senior Tech Analyst and Features Writer of Benzinga. You can reach him at 248-636-1322 or louis@benzingapro.com. Follow him @LouisBedigianBZ
Posted-In: AIG Bollore Burger KingLong Ideas News Short Ideas Success Stories Trading Ideas Best of Benzinga
View Comments and Join the Discussion!