Poland ETFs Mixed Despite Slack GDP Outlook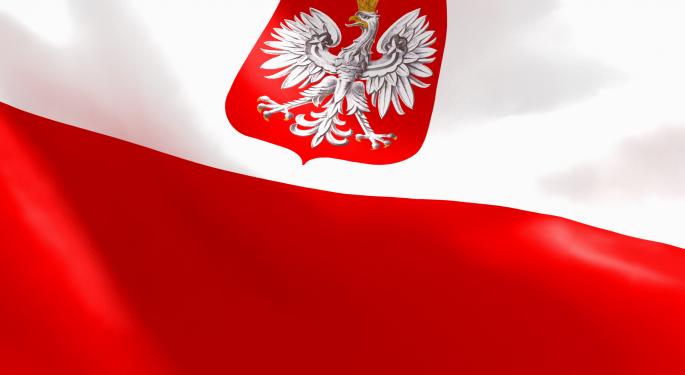 Following a slack outlook for 2013 Polish GDP growth from the European Commission issued earlier today, the two U.S.-listed Poland-specific ETFs are mixed on the session.
The Market Vectors Poland ETF (NYSE: PLND), the older of the two funds, is trading modestly higher, while the iShares MSCI Poland Capped Investable Market Index Fund (NYSE: EPOL) is trading down by just a couple of pennies.
PLND is actually trading higher on volume that is already more than 10 percent above the daily average. Combining that fact with EPOL trading only modestly lower on light turnover, and a case can be made that investors have not found the European Commission outlook for Poland to be too unsettling.
In the report, the European Commission slashed its outlook for Polish GDP growth this year to 1.2 percent from a previous forecast of 1.8 percent. That would be the weakest rate of growth in 12 years for the Eastern European emerging market, according to Bloomberg.
This is not the first time EPOL, the larger of the two ETFs, and PLND have shown fortitude in the face of concerning economic data. Following Poland's third-quarter GDP report, which showed the lowest growth rate since 2009, the the two ETFs responded by printing new 52-week highs. That report was issued in mid-December.
Still, the past 90-days have been somewhat rough as PLND is off 0.72 percent and EPOL is down 0.55 percent in that time. Additionally, the near-term outlook is concerning in the eyes of some.
"Our model indicates at the moment that Poland's equity market is in a short term down trend and it is likely its medium term trend is about to point down firmly. However, the long term trend is still positive," said Bartlomiej Fraszczyk, a portfolio manager at London-based Generation Systematic Solutions, in an e-mail exchange with Benzinga.
Generation Systematic Solutions, a unit of Canadian hedge fund giant Arrow Capital Management, manages an emerging markets model portfolio for clients that includes ETFs such as the Vanguard Emerging Markets ETF (NYSE: VWO) and the WisdomTree Emerging Market Small-Cap Dividend Fund (NYSE: DGS). The firm does not currently hold positions in EPOL or PLND.
While Poland is not a Eurozone nation, its stocks and the aforementioned ETFs have, at times, suffered on the thesis that the Polish economy is heavily dependent on exports to Eurozone members. In reality, Poland's domestic economy has improved significantly in recent years, bolstering the long-term bull case for EPOL and PLND.
"Obviously Poland's economy is not disconnected from the rest of Europe, however it is more resistant mainly due to a large demand from its domestic market. During the past 15 years emerged a strong middle class which drives the internal demand," said Fraszczyk .
With the near-term outlook for Poland cloudy and diversified emerging markets ETFs lagging U.S. stocks this year, investors can wait for better pricing in EPOL and PLND. Interestingly, those that do decide to get involved will be treated to strong dividend yields, a fact that often goes ignored when discussing Poland ETFs.
PLND currently has 30-day SEC yield of 4.29 percent while EPOL's is 4.78 percent. Both are more than double the 30-day SEC yield on the iShares MSCI Emerging Markets Index Fund (NYSE: EEM).
As for which ETF to pick, Fraszczyk notes EPOL has been the better performer on a cumulative basis, while saying "although both products are very similar, initially I would go for the EPOL and monitor the growth of assets of the PLND."
For more on Poland, click here.
View Comments and Join the Discussion!
Posted-In: Long Ideas News Short Ideas Dividends Dividends Emerging Market ETFs Global Econ #s Best of Benzinga