iPhone Satisfaction Tanks Ahead of the iPhone 5S Unveiling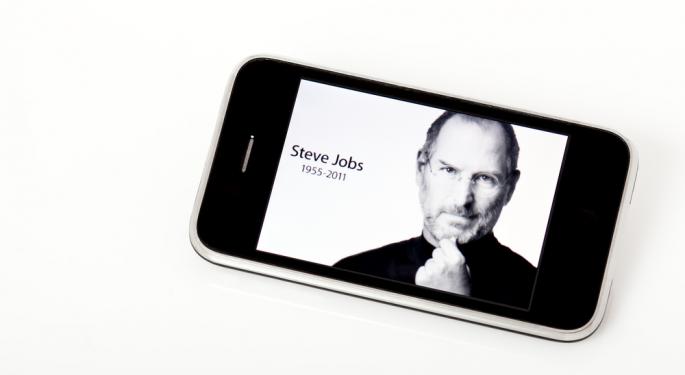 Historically, iPhone satisfaction has been among the highest in the smartphone industry. Consumers cannot get enough of Apple's (NASDAQ: AAPL) leading product, regardless of the features.
Last summer, demand for the iPhone 5 (which had not been unveiled at the time) was at an all time high. The reviews of the finished product are full of praise.
With that in mind, it is almost unfathomable to think that a new survey could show that the iPhone 5 has fallen to fifth place in terms of consumer satisfaction. According to On Device Research, however, that is just what happened when it surveyed 93,825 mobile users in the United States.
Surprisingly, the Motorola Atrix HD came in first and scored a higher device satisfaction rating than the iPhone 5.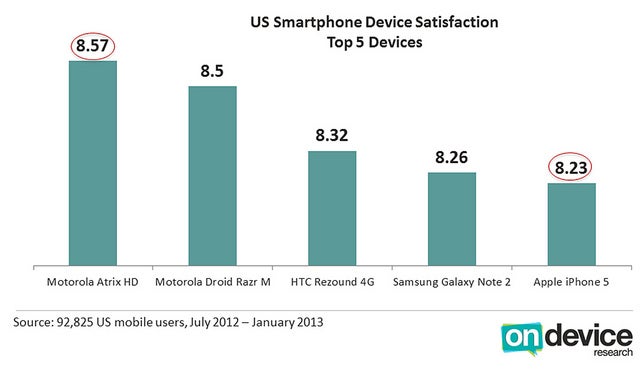 Source: On Device Research
The iPhone 5 performed slightly better in the United Kingdom, where 52,140 mobile users were surveyed.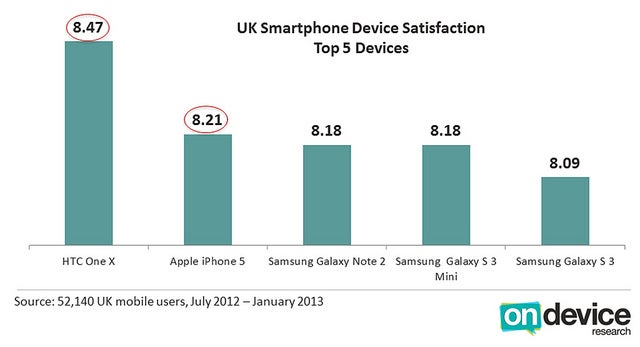 Source: On Device Research
Based on these surveys, it would seem that critics have largely underestimated the potential for a Motorola comeback. It also casts HTC (which has been struggling to maintain profitability) in a much better light.
However, one has to wonder how these figures were actually obtained. On Device does not say how many of the respondents owned the devices in question. Sales figures for the HTC One X have been hard to come by, but it is safe to assume that the smartphone has not sold as many units as the iPhone or the Galaxy S III. Thus, it is very likely that a larger number of people own Apple and Samsung phones than any device manufactured by Motorola. This could have feasibly opened Apple and Samsung's devices to a greater degree of criticism. (A company that sells 30 million units is more likely to receive complaints than a firm that only sells a few million or a few hundred thousand devices.)
The iPhone 5 and Galaxy S III are mainstream devices; the Atrix HD is not. It is very possible that the people who own an Atrix HD are also the ones who were most likely to test it out and make sure it was the device they wanted. Meanwhile, thousands (if not millions) of consumers buy the iPhone and Galaxy S devices on media hype alone -- hype that did not accompany the Atrix HD's launch. Without thoroughly testing the iPhone 5 or Galaxy S III first, consumers were inevitably more likely to be disappointed with their purchases.
Loyal Motorola and HTC fans might view this study as a big win for both firms. There is no denying that the data skews in their favor. The sales figures, however, do not. If these firms have truly developed superior smartphones, they would be wise to rethink their marketing strategies for 2013, because their existing campaigns aren't getting the job done.
Follow me @LouisBedigianBZ
Posted-In: Apple Galaxy S IIILong Ideas News Short Ideas Rumors Tech Trading Ideas Best of Benzinga
View Comments and Join the Discussion!