Russia ETFs Holding up Despite Gazprom Dividend Cut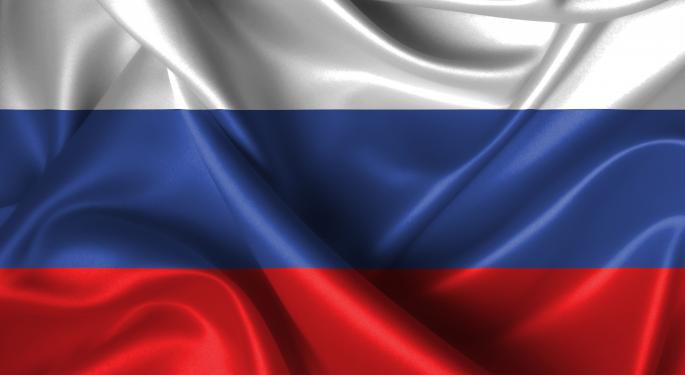 Shares of the Market Vectors Russia ETF (NYSE: RSX), the largest ETF tracking the "R" in the ubiquitous BRIC, are trading slightly higher on Friday despite news of a lower 2012 dividend from OAO Gazprom (OTC: OGZPY).
Gazprom, the world's largest gas producer, is forecasting a 2012 dividend of seven to eight rubles per share, down from the payout of 8.97 rubles in 2011, Bloomberg reported.
Based on current exchange rates, Gazprom's 2012 dividend will be 23.2 cents to 26.5 cents per share compared with almost 30 cents in 2011.
Russia ETFs holding up well in the face of this new is somewhat impressive given these funds' large allocations to Gazprom and arguably excessive weights to the energy sector in general. For example, the $1.67 billion RSX, also the oldest Russia ETF, allocates 7.54 percent of its weight to Gazprom. The stock is that ETF's third-largest holding.
The energy sector accounted for almost 42 percent of RSX's weight at the end of January, according to Market Vectors data.
Perhaps even more impressive is the fact that the iShares MSCI Russia Capped Index Fund (NYSE: ERUS) has found a way to shake off the Gazprom dividend news. ERUS, which has almost $257 million in AUM, devotes 18.5 percent of its weight to Gazprom. Overall, the energy sector dominates ERUS with a weight of almost 52 percent.
The somewhat anonymous SPDR S&P Russia ETF (NYSE: RBL), which has $35.3 million in assets, is also trading higher today despite a 16.4 percent weight to Gazprom and an energy sector allocation of nearly 49.1 percent.
The good news is that Gazprom's 2013 dividend may rise to 8 to 9 rubles, or a yield of 5.6 percent to 6 percent, Bloomberg reported citing company documents. Splitting the difference and assuming Gazprom yields 5.8 percent following its 2013 payout, that would still put the Russian energy far ahead of rival Western firms on the basis of yield.
BP (NYSE: BP) and Total (NYSE: TOT), Europe's second- and third-largest oil companies, respectively, currently yield 4.9 percent. ConocoPhillips yields 4.6 percent, meaning that trio are among the only major Western oil firms to be even remotely close to Gazprom's potential yield.
Still, Russia ETFs are gaining allure as dividend plays. Last year, the country was among several emerging markets to institute new dividend policies applying to state-run companies. In other words, as the primary shareholder in an array of Russian firms, the government wants higher dividends.
Gazprom and OAO Rosneft, Russia's largest oil producer, are just two of the state-run firms found in Russia ETFs. Each are top-10 holdings in ERUS, RBL and RSX.
For more on ETFs, click here.
Posted-In: Long Ideas News Short Ideas Dividends Dividends Emerging Market ETFs Futures Commodities Best of Benzinga
View Comments and Join the Discussion!