Is High Speed Rail the Next Big Transportation Investment Play?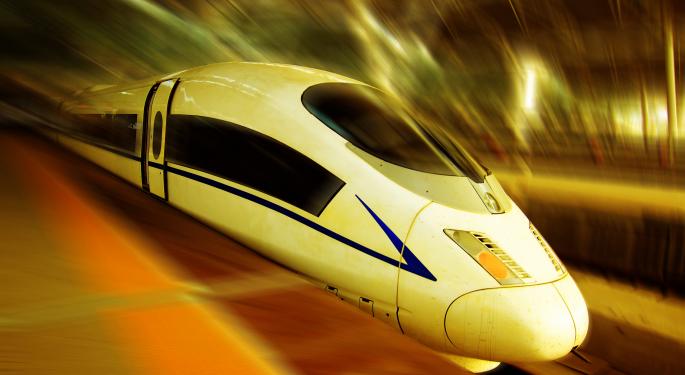 Despite the odds and opposition, California will become home to the nation's first truly high-speed rail system.
In late July 2012, the governor of California decided to match the $3 billion dollars of federal funds that were almost due to expire to build the Fresno – Bakersfield line.
The $6 billion, 130-mile initial segment in the Central Valley will begin construction in summer 2013. This will be a huge milestone in a decades-long effort to bring fast trains enjoyed all over the world to the United States.
The problem with high-speed rail is that the net benefits don't come close to the net costs.
The planned statewide system is short about $60 billion, some of which will undoubtedly need to come from taxpayers.
California High-Speed Rail Authority's leadership team, including CEO Jeff Morales and Chairman Dan Richard will eventually have to answer the question: Where will the other $60 billion come from?
So far the answer, according to Richard is, "We don't know." Richard and Morales, in Washington during the U.S. Conference of Mayors, told POLITICO that systematic, step-by-step funding is the only viable path forward.
They see the private sector eventually able to fund as much as $20 billion, money that will become available in five years when trains in the brand-new rail segment in the Fresno region are producing revenues.
Other than operational or venture capital, investors should pay attention to the freight and passenger car manufacturers industry.
Conglomerates like Siemens (NYSE: SI) and General Electric (NYSE: GE), while not focused exclusively on rail, have segments dedicated to transportation. Both SI and GE build passenger trains and locomotives.
Other companies likely to benefit from high-speed rail development in the U.S. include Canadian train maker, Bombardier (OTC: BDRAF), and Ohio-based Timken (NYSE: TKR), which has a significant share of the rail market through the various repair and maintenance products it makes.
For those too impatient to wait for U.S high-speed rail to develop, keep in mind that the rest of the world is already there.
The New York Times reports that China recently put into service the world's longest high-speed rail line, covering a distance in eight hours that is equal to New York to Key West, Fla.
Spain's latest high-speed rail link between Barcelona and Figueras, according to Euronews, reduces the journey between the two cities to less than one hour.
From both an American and worldwide investment perspective, Jim Jubak, Senior Markets Editor at Moneyshow, recommends keeping an eye on Bombardier and Siemens, and adds France's Alstom (OTC: ALSMY) and Japan's Kawasaki Heavy Industries (OTC: KWHIY) to the mix.
Posted-In: Alstom CaliforniaLong Ideas News Small Cap Management Events Trading Ideas Best of Benzinga
View Comments and Join the Discussion!