Brazil ETF Lagging...Again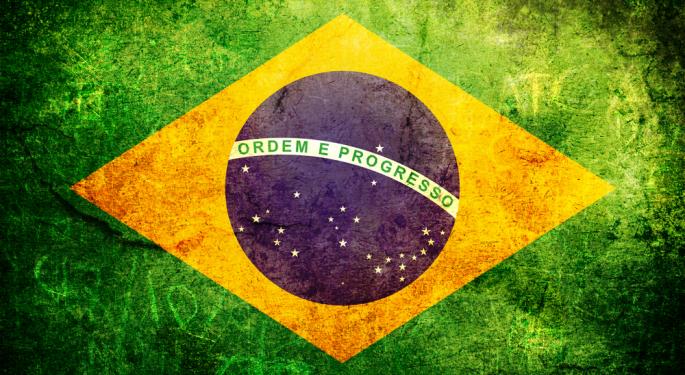 One month into the new year and the iShares MSCI Brazil Index Fund (NYSE: EWZ) has been unable to shake its laggard status established in 2012.
Last year, the $9.27 billion EWZ was the worst performer among the four major ETFs tracking the BRIC nations. A late year rally helped EWZ close 2012 in the green but a gain about half a percent was not even close to the 15 percent offered by the Market Vectors Russia ETF (NYSE: RSX), the next-closest BRIC ETF in terms of performance.
EWZ is up to its old tricks again as the ETF headed into the start of trading today with a year-to-date loss of about 0.7 percent. The iShares FTSE China 25 Index Fund (NYSE: FXI) and RSX are down on the year, though not as much as EWZ, and the WisdomTree India Earnings ETF (NYSE: EPI) has notched a modest year-to-date gain.
Perhaps highlighting the lack of faith some investors have in EWZ, the ETF is off 0.35 percent Thursday and that is after Brazil's government statistics agency IBGE said the unemployment rate in Latin America's largest economy fell to 4.6 percent in December from 4.9 percent in November. That missed estimates of 4.4 percent, but a 4.6 jobless rate is still stellar in the developed and developing worlds.
The U.S. unemployment rate is 7.8 percent. Egypt's is around 12 percent. Both Spain and South Africa have jobless rates north of 20 percent.
As EWZ has struggled this year, a familiar culprit has emerged as the reason why. That culprit is Petrobras (NYSE: PBR), Brazil's state-run oil company.
Including Thursday's loss of about two percent, Petrobras is continuing a disturbing trend of its own. That being wearing the dubious title of one of the world's worst oil equities. Shares of Petrobras trading in New York are down 7.3 percent year-to-date, including Thursday's. Trading around $18.20 at the time of this writing, Petrobras is less than a $1 above its 52-week low at $17.27.
That sad performance really stands out among integrated oil companies because Colombia's Ecopetrol (NYSE: EC), that country's state-controlled oil firm, BP (NYSE: BP), Exxon Mobil (NYSE: XOM) and Chevron (NYSE: CVX) have all delivered solid-year to date performances.
While Petrobras's market value has dwindled, so has its weight in EWZ. In early November, the two Petrobras securities found in EWZ combined for over 16 percent of the ETF's weight. That figure was down to 13 percent as of Wednesday, but that does not change the fact that Petrobras is still EWZ's largest holding.
Petrobras has come under pressure this week after the company announced it will raise gasoline and diesel prices by 6.6 and 5.4 percent, respectively. Analysts were hoping for higher increases. Being controlled by the Brazilian government means Petrobras does not have the freedom to raise prices in an effort to take advantage of rising oil futures. Brazil has strict fuel price controls aimed at controlling inflation there.
That may be good for Brazilian drivers, but those price controls forced Petrobras into reporting its first quarterly loss in 13 years in the second quarter of 2012, Bloomberg reported. Now Petrobras has a market cap of just under $119 billion, meaning it is about $11 billion smaller than Ecopetrol based on that metric.
Bottom line: Petrobras, and by virtue, EWZ are again reminding ETF investors that the biggest fund is not always the best way of accessing Brazil. For example, the Market Vectors Brazil Small-Cap ETF (NYSE: BRF) has posted a modest year-to-date gain and as small-cap ETF, BRF has no exposure to Petrobras.
Those willing to take a look at a smaller, thinly traded ETF can consider the First Trust Brazil AlphaDEX Fund (NYSE: FBZ). FBZ is up about 1.5 percent year-to-date and allocates just 1.86 percent of its weight to Petrobras.
For more on ETFs, click here.
View Comments and Join the Discussion!
Posted-In: Long Ideas News Short Sellers Short Ideas Emerging Market ETFs Futures Commodities Global Best of Benzinga