These Companies May Not be Around After 2013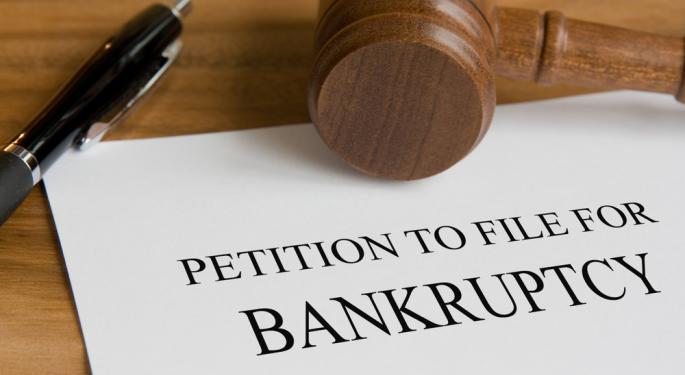 At the start of 2012, Fitch Ratings forecast the amount and size of U.S. corporate bankruptcies would double. If there is any good news on this front, it is that for the 12 months ending September 30, Chapter 7 and Chapter 11 corporate filings fell, though Chapter 13 filings modestly rose.
Still, there have been some noteworthy companies to travel Bankruptcy Boulevard, most recently Twinkies maker Hostess joined that group. Companies come and companies go. That is the nature of capitalism. With that in mind, what follows is a list of familiar companies that may not make it through 2013.
The caveat here, and it is an important one, is that not all of these companies are bankruptcy candidates. One member of the list is already there. Another could go belly-up, but it could also unload enough assets to stave off that situation.
AMR (OTC: AAMRQ) The parent company of American airlines is already in bankruptcy, which it filed for last year. American, once the largest U.S. carrier, is familiar with bankruptcy. The Texas-based company flirted with bankruptcy in 2009 and threatened bankruptcy in 2003 to force its employees to make wage concessions.
American has been punished by a variety of factors, not just rising oil prices. That issue faces all airlines. High labor costs, another issue for most airlines, have been troublesome for American. As has customer service. As in American's customer service ranks at or near the bottom of an industry not really known for treating its customers all that well.
It has been quite a road for once proud American, the only major legacy carrier not to seek bankruptcy protection after the September 11 terrorist attacks in 2001. In fact, American was able to play vulture and buy rival TWA out of bankruptcy court. In ironic twist of fate, the last best hope for American is for US Airways (NYSE: LCC) to buy it out of bankruptcy.
Chesapeake Energy (NYSE: CHK) The second-largest U.S. natural gas producer has spent what feels like most of 2012 doing one thing: Selling assets to raise cash to reduce its massive and appease activist shareholder Carl Icahn. Chesapeake has solid everything from shale acreage to pipeline interests to cut into a a debt-to-equity ratio of almost 1.1 and a long-term debt-to-equity ratio of 1.03.
The company has sold enough assets to make it through 2012, but it is facing a cash crunch for 2013 and the possibility of almost $11.4 billion in debt at the end of next year.
Chesapeake may not be the most logical bankruptcy candidates if for no other reason than Ichan recently boosted his stake in the firm and he would be apt to force an outright sale of breakup of the company before a bankruptcy. That is assuming Icahn is committed to Chesapeake for a couple of more quarters. With all that debt and low natural gas prices, Chesapeake's pickings are slim when it comes to potential suitors.
MEMC Electronic Materials (NYSE: WFR) It has been a dreadful year for solar companies, both of the American and Chinese variety. Just look at the chart of the Guggenheim Solar ETF (NYSE: TAN).
To be fair, MEMC has jumped over 41 percent in the past month as the company procured some critical financing for a South Africa project and the company's market cap has surged since GMI Ratings notedMEMC was a bankruptcy risk earlier this year.
The news has been better for MEMC recently, but that does not obfuscate the fact that it has a debt-to-equity ratio of 3.94.
Posted-In: Long Ideas News Short Ideas Financing Futures Commodities Asset Sales Events Best of Benzinga
View Comments and Join the Discussion!