High Beta Dividend Stocks For 2013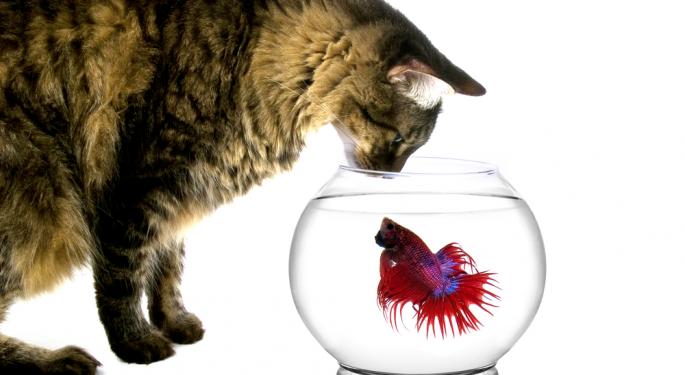 When it comes to sleepy, low-beta dividend stocks, investors have plenty of options. Nearly all of the members of the consumer staples, telecommunications and utilities sectors can be considered "low beta" and those three sectors combine for nearly 18 percent of the S&P 500's weight.
Add the fact that many constituents of the health care sector are viewed as low beta and that that sector represents over 12 percent of the S&P 500's weight and it is safe to say low-beta fare accounts for at least of third of the benchmark index's total weight.
What about stocks with higher betas that compensate investors for the added risk and volatility? The perception may be that taking on a higher beta means a significant reduction, if not all out elimination, of dividends. The reality is that there are plenty of stocks out there that simultaneously wear the titles of "dividend stock" and "high beta." Just look at the following list.
Deere & Company (NYSE: DE) The agriculture equipment giant is not quite yet a dividend champion along the lines of a PepsiCo (NYSE: PEP) or Chevron (NYSE: CVX), but it is getting there. Deere has raised its payout for nine consecutive years. Over that time, Deere's dividend growth has been stellar. In 2003, the annual payout was just 44 cents a share. This year, that number will be $1.84 a share.
Deere's dividend growth bodes well for long-term investors and that might be one reason Warren Buffett likes the stock. Buffett's Berkshire Hathaway (NYSE: BRK-A)(NYSE: BRK-B) bought 3.98 million Deere shares during the third quarter. There is more room for dividend growth as well as Deere management has pledged to keep a payout ratio of 25 percent to 35 percent. The current payout ratio is 24 percent. Deere's beta against the S&P 500 is 1.56.
BHP Billiton (NYSE: BHP) The world's largest mining company certainly qualifies as "high beta" with a beta of 1.49. It is not a bad dividend stock with a yield north of 3.1 percent. In the words of the company itself, "We have a progressive dividend policy that seeks to steadily increase, or at least maintain the dividend in US dollars at each half-yearly payment."
That should assuage skittish investors that BHP is committed to rewarding shareholders despite its capital-intensive businesses. The prove is in the pudding as BHP's dividend in U.S. dollar terms has risen eightfold since 2001.
However, there are risks. BHP's share price fluctuations are intimately tied to emerging markets commodities demand and the global economic cycle. One of those themes falters, the other usually is not far behind. Additionally, the company has over over $25 billion in debt, but less than $4.4 billion in cash.
SeaDrill (NYSE: SDRL) As an oil services stock, SeaDrill's beta of nearly two is no surprise. However, as an oil services name, SeaDrill's dividend yield of 8.8 percent is a pleasant surprise. Transocean (NYSE: RIG), one of SeaDrill's most direct rivals, pays no divided. Adding up the yields of Schlumberger (NYSE: SLB), Halliburton (NYSE: HAL) and National Oilwell Varco (NYSE: NOV) and then multiplying that number by two garners a yield that is still nowhere close to SeaDrill's.
Fourteen of SeaDrill's 22 new rigs have already been contracted and the company had a backlog of $21.3 billion as of late November.
One thing to keep in mind about SeaDrill: It makes for valid fiscal cliff play because it is not a U.S.-based company. Even if the the fiscal cliff comes to pass and the dividend tax rate in the U.S. increases, that is likely to have little impact on SeaDrill's payout because of the company's international shareholder base.
Plus, the dividend growth is impressive. The company paid a dividend of about $3.14 a share last year, but that number will be in the $3.40 range this year.
Posted-In: Long Ideas News Short Ideas Dividends Dividends Commodities Global After-Hours Center Best of Benzinga
View Comments and Join the Discussion!