Chanos Skewers Brazil At Ira Sohn London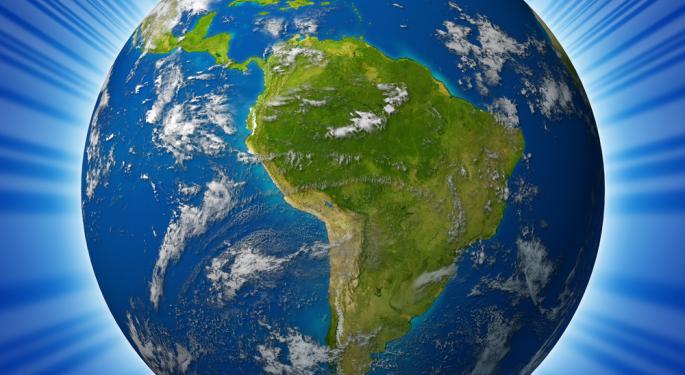 Shares of Vale (NYSE: VALE), the world's largest iron ore producer, are participating in Monday's risk on rally and are trading higher by 1.1 percent despite bearish comments from noted short-seller Jim Chanos. Speaking at the Ira Sohn conference in London, Chanos reiterated that Brazil-based Vale and the country's state-run oil producer, Petrobras (NYSE: PBR), are two of his favorite shorts.
Chanos, the founder and president of Kynikos Associates, called Brazil "resource rich," but "not rich," broadly speaking. Amid slowing economic growth and the perception of increased political risk, Brazilian equities and the ETFs tracking those stocks have faltered this year.
The iShares MSCI Brazil Index Fund (NYSE: EWZ) is off nearly 10 percent year-to-date, making the $8.6 billion fund worst-performing of the four major ETFs tracking the BRIC nations. Petrobras and Vale securities combine for nearly 26 percent of EWZ's weight.
Petrobras appears worthy of the bear call by Chanos. The company reported a second-quarter loss, its first loss since 1999, and its third-quarter results missed estimates. Although reserves at Brazil's pre-salt oil fields have been placed as high as 55 billion barrels, Petrobras has disappointed investors with declining production in recent quarters.
Chanos told attendees at Ira Sohn that every dollar Petrobras brings in is flowing back out, but that production is declining.
In a group major global stocks including Petrobras, Exxon Mobil (NYSE: XOM), Chevron (NYSE: CVX), Royal Dutch Shell (NYSE: RDS-A), BP (NYSE: BP) and Total (NYSE: TOT), Petrobras has been by far the worst performer over the past five years with a loss of 64 percent. The next closest laggard is BP, Europe's second-largest oil company, with a decline of 45.3 percent.
Over the same time period, Petrobras has also been unable to keep pace with other state-controlled oil firms. PetroChina (NYSE: PTR) is off 34.1 percent while Colombia's Ecopetrol (NYSE: EC) has surged 50.5 percent.
In an interview with Bloomberg earlier this month, Chanos called the recent Petrobras "horrible."
"Prices are kept low for the consumers. That is a political decision that is hurting the company's shareholders," Chanos said in the Bloomberg interview.
Investors also have little reason to remain patient with Petrobras because they are not compensated for that patience. Petrobras' American depositary receipts yield just 1.3 percent, just half the dividend yield on Exxon shares. The current yield on BP's U.S.-listed shares is more than quadruple what Petrobras offers.
As for Vale, the shares have tumbled 19.5 percent this year. The shares have been hammered by slack demand from China, another market Chanos is famously bearish on, and fears about government interference. Rivals such as BHP Billiton (NYSE: BHP) and Rio Tinto (NYSE: RIO) have sharply outpaced Vale in terms of returns this year.
The bear calls on Petrobras and Vale by Chanos are noteworthy for a couple of reasons. First Brazil, like so many other developing markets, has been viewed as inexpensive relative to other emerging nations this year. Despite those allegedly compelling valuations, Brazilian equities have struggled.
Second, some other high-profile investors are not as bearish on Brazil as Chanos is. Earlier this year, Ray Dalio's Bridgewater Associates, the world's largest hedge fund, announced a stake of just over 2 million shares in EWZ.
Posted-In: Long Ideas News Short Sellers Short Ideas Emerging Market ETFs Futures Hedge Funds Commodities Best of Benzinga
View Comments and Join the Discussion!