Legal Disputes Could Plague Egypt ETF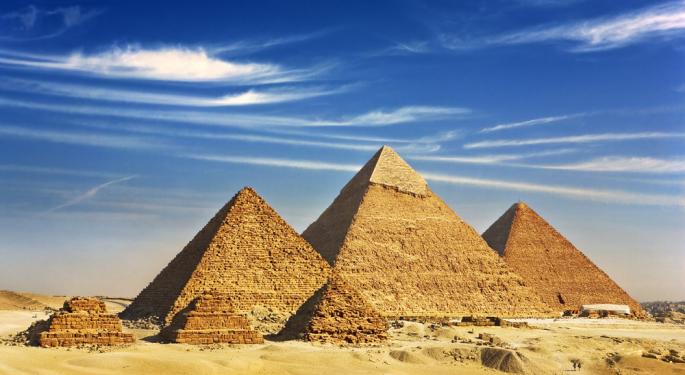 For a good portion of 2012, the Market Vectors Egypt ETF (NYSE: EGPT) has been one of the best-performing country-specific ETFs on the market. Showing an uncanny ability to shake of regional political tensions and violence, EGPT has soared almost 54 percent year-to-date.
EGPT bottomed at just over $10 in late June and was found flirting with $16 by mid-September, but the lone ETF exclusively devoted to the North African country could be in for some downside. Government disputes with Egyptian companies look to be the culprit. Egyptian equities are trading at two-month lows as investors are becoming skittish the government is not doing enough to solve the disputes, Bloomberg reported.
In the past month EGPT has slipped almost 5.2 percent and investors have pulled some cash from the fund. Still, by assets, EGPT is larger than it was in early August when it had $43.7 million in assets under management. As of November 2, that number was $52.6 million.
In early October, President Mohamed Morsi said the government is looking to recoup money from unidentified firms. Morsi mentioned specific cases that led investors to speculate he was referring to companies including Orascom Construction Industries and Talaat Moustafa, according to Bloomberg.
Orascom Construction is EGPT's third-largest holding with a weight of almost 7.1 percent. Centamin, another EGPT constituent at 3.3 percent of the fund's weight, has also been under fire. Shares of the mining firm plunged last week after an Egyptian court ruled some of the company's gold mining plans were invalid, according to Bloomberg. The materials sector is EGPT's second-largest with a weight of 15 percent.
Talaat Moustafa, a property developer, is EGPT's fourth-largest holding with a weight of almost 6.3 percent. A court case involving the company will be heard on Wednesday and that could bring more selling pressure on the stock and the ETF. EGPT allocates nearly 45 percent of its weight to financial services stocks and under that umbrella is real estate. That sub-sector represents almost 13 percent of EGPT's weight.
More political issues might be prove to be too much for investors to overlook with EGPT. Egypt's current economic situation is far from comforting with tepid growth and lack of investment in new industry. Unemployment is over 12.5 percent, , but among Egypt's youth the figure is more than double that.
Further interference by the Morsi administration could impact foreign direct investment and plague Egypt's domestically-focused economy, one that is already suffering from dwindling foreign reserves and a rising fiscal deficit.
So fragile is the country's economy that Morsi has asked Egyptians to pitch in with donations. This the second time since early 2011 the country's finance ministry has used such a gambit. The success of such a plan appears in doubt has half of 82 million in Egyptians live in poverty.
Bottom line: EGPT's bear case is starting to creep to the forefront. Already below its 20- and 50-day moving averages, further selling pressure of the intense variety could take EGYPT down another five percent to 10 percent over the next several months.
For more on ETFs, click here.
Posted-In: Long Ideas News Short Ideas Emerging Market ETFs Technicals Politics Legal Events Best of Benzinga
View Comments and Join the Discussion!