Selling in Colombia ETF Overdone After Interbolsa Decline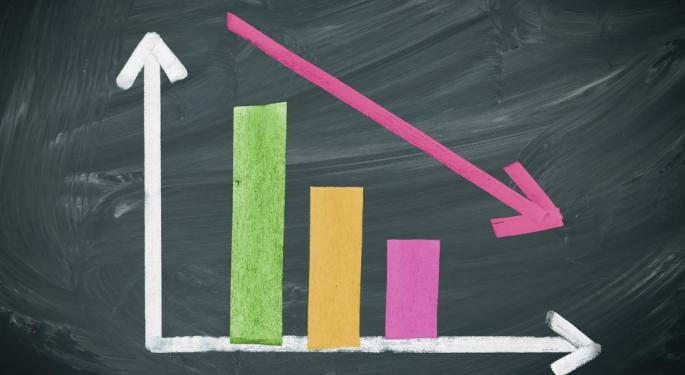 Shares of the Global X FTSE Colombia ETF (NYSE: GXG), the largest ETF tracking South America's second-largest economy, are on pace for their worst week in multiple months amid concerns about the financial health of Interbolsa SA's brokerage operations.
Interbolsa, which owns Colombia's largest brokerage business, does not trade in the U.S., but its home market shares opened the week above 1,500 pesos only to fall to a low of 980 pesos on Thursday, according to Bloomberg data. Down 58 percent this year, Interbolsa's weekly plunged was hastened by news its brokerage business is is facing a liquidity crunch.
Trading in the stock was suspended today and will remain halted for all of next week after regulators seized the brokerage operations. A review period could last up to four months, Bloomberg reported.
GXG, which has almost $180 million in assets under management, was already under pressure due to a disappointing earnings report from Ecopetrol (NYSE: EC). Colombia's state-run oil giant is the ETF's largest holding with a weight of 14.1 percent. The Interbolsa flap only made things more difficult in the near-term for an ETF that in 2012 has been one of the best tracking a Latin American market.
Interbolsa's impact on GXG this week can be viewed as a curious situation. Indeed, the ETF allocates almost 24 percent of its weight to stocks deemed as financials, banks or financial services firm. However, foreign investors view Colombia's banking system as one of the most dynamic in South America.
Additionally, the bulk of that allocation to financials in GXG goes to Bancolombia (NYSE: CIB), which accounts for 12.2 percent of the ETF's weight. More importantly, GXG has 22 equity holdings of which Interbolsa is the smallest with a weight of just 0.55 percent.
Arguably, that implies the selling pressure in GXG this week is overdone, creating a buying opportunity for astute investors. In its favor, GXG has a compelling valuation. The ETF's current price-to-earnings ratio is 10.58 and its price-to-book ratio is 1.71. As measured by the The iShares MSCI Emerging Markets Index Fund (NYSE: EEM), GXG looks cheap relative the broader developing world. EEM's P/E ratio is north of 17 with a price-to-book ratio of three.
A more relevant regional comparison indicates GXG is cheap relative to least one marquee Brazil ETF. The iShares MSCI Brazil Index Fund has a P/E of almost 18 and a price-to-book ratio of 3.42, according to iShares data.
The Interbolsa mess appears company specific and swift response by Colombia regulators could boost confidence in the country's financial system. That confidence does appear high because foreign investors poured $9.3 billion into the country in the first six months of 2012.
Add to that, Standard & Poor's raised its outlook on Colombia's credit rating to positive from stable in August. Citing a declining debt burden and sustained GDP growth, S&P said Colombia's rating could be increased. Add those factors up and Interbolsa may have created a buying opportunity in GXG.
For more on Colombia, click here.
Posted-In: Long Ideas News Short Ideas Emerging Market ETFs Legal Events Global Intraday Update Best of Benzinga
View Comments and Join the Discussion!