Are Financials Pricing in a Romney Win?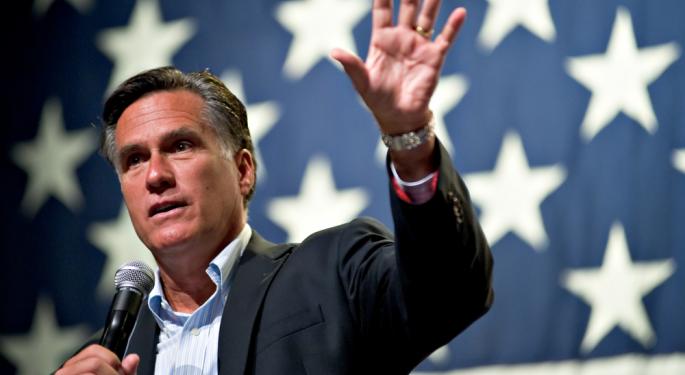 In the wake of the second presidential debate Tuesday night, investors are reminded that Election Day will quickly arrive. Predictably, presidential politics stir up another debate. That being which sectors stand to benefit the most from a particular outcome.
It can be argued that investors have a tendency to overstate the impact any president has particular sectors, perception is often reality. Along those lines, price action in the financial services sector might be telling investors something and it might not bode well for President Barack Obama's re-election prospects.
"Financials are still in play and have been for most of 2012," said Paul Weisbruch, vice president of ETF and options sales trading at Street One Financial, in an interview with Benzinga. "The sector has been a relative strength lead and it sure seems like a regime change would be a positive."
Perhaps a case can be made that an ETF such as the Financial Services Select Sector SPDR (NYSE: XLF) is "pricing in" an upset by Mitt Romney. Still, it must be noted XLF is up 25 percent year-to-date, making it the best-performing of the nine sector SPDRs, and it has not been clear for all of 2012 that Romney will win this election. It still is not clear.
The other side of the coin is that there is no getting around the fact that financials have gained steam in recent months as Romney has closed the gap on President Obama, and in some polls, come out ahead. In the past three months, XLF is up more than 10 percent while the Vanguard Financial Services ETF (NYSE: VFH) is up nearly eight percent. The iShares Dow Jones US Financial Sector Fund (NYSE: IYF) is higher by 8.2 percent over the same time.
"There is definitely some bullish optimism in the sector," said Weisbruch. "Look at J.P. Morgan Chase. It was kind of a forgotten stock back in May, but now the stock is at a four-month high. Wells Fargo is doing great. Even Citigroup is doing reasonably well."
Those three stocks account for 22.5 percent of XLF's weight. The ETF, the largest devoted to financial services names with almost $8.5 billion in assets under management, has been among the most correlated to the S&P 500 this year. XLF's correlation to the broader market index is 0.98, according to State Street data. Only the Technology Select Sector SPDR (NYSE: XLK) and the Consumer Discretionary Select SPDR (NYSE: XLY) have correlations that high.
Weisbruch points out that while relative strength is already evident in ETFs such as IYF and XLF, a Romney victory could bode well for these funds for another reason.
"Anything that would speed up mortgage lending would help the money center banks," he said. The pieces are all there – low rates, the economy and stock market are improving."
Due to stricter requirements from lenders, mortgage approval speed has dramatically slowed since the financial crisis and some would-be borrows with credit scores north of 700 are being turned away due to extreme caution by lenders.
Wells Fargo (NYSE: WFC), Bank of America (NYSE: BAC), J.P. Morgan Chase (NYSE: JPM), Citigroup (NYSE: C) and U.S. Bank (NYSE: USB) are five of the six largest U.S. mortgage lenders. Those stocks account for about 31 percent of XLF's weight.
For more on the election and ETFs, click here.
Posted-In: Long Ideas News Sector ETFs Short Ideas Politics Events Pre-Market Outlook Intraday Update Best of Benzinga
View Comments and Join the Discussion!