Apple Wants to Get Into India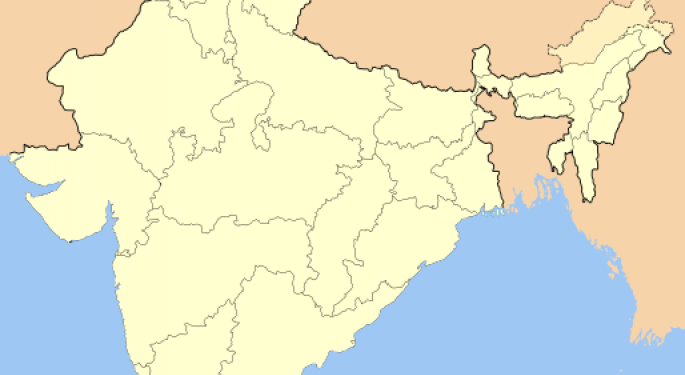 The Economic Times reported Monday on rumors that Apple (NASDAQ: AAPL) may be hoping to open stores of its own in India. The company currently offers its products to Indian consumers through partnerships with local distributors, but these partnerships eat into profitability. Apple lags key rivals, such as South Korea's Samsung, in the South Asian nation. Compared to Samsung's 51 percent market share of handsets in India, Apple's 1.2 percent is a pittance.
Apple, which contracts much of its manufacturing to Chinese companies, would have a hard time meeting India's mandatory 30 percent local-sourcing requirement for foreign retailers. Its best hope would be to convince the Indian government to count Apple's technology outsourcing operations in the country as part of the 30 percent requirement.
As Wal-Mart (NYSE: WMT) and other retailers keen to expand into country have found, the Indian government can be notoriously slow to make exceptions. So it may be a while before Apple manages to get its foot in the door. In the meantime, here is a quick look at some of the top performing Indian stocks listed on the New York Stock exchange: ICICI Bank (NYSE: IBN), Mahanagar Telephone Nigam (NYSE: MTE) and Tata Motors (NYSE: TTM).
ICICI Bank
Shares of this Mumbai-based provider of banking and financial services to corporate and retail customers are about 45 percent higher year to date after a more than 25 percent rise in the past month. Its market capitalization is currently above $23 billion. The long-term earnings per share (EPS) forecast is more than 19 percent. The price-to-earnings (P/E) ratio is about 16.3. The return on equity is about 11.5 percent and the dividend yield is near 1.4 percent. Short interest is less than one percent of the float. Thomson/First Call has only two analysts listed that follow the stock, but one of them has rated the stock at Strong Buy for the past three months. The mean price target, or where they expect the share price to go, is more than seven percent higher than the current share price, a level it has not seen since August of 2011. Over the past six months, ICICI Bank has underperformed Bank of America (NYSE: BAC) and Citigroup (NYSE: C), as well as the S&P 500.
Mahanagar Telephone Nigam
This telecom is headquartered in New Delhi, and its stock is up about 43 percent year to date despite pulling back more than 14 percent in the past two weeks. It has a market cap of about $388 million. The long-term EPS growth forecast is about 10 percent, though analysts expect the company report a narrower net loss and declining earnings for the current fiscal year. The P/E ratio is a mere 3.0 and the company has not paid a dividend since 2009. Yet, short interest is much less than one percent of the float. Only one analyst was surveyed, and that analyst expects shares to underperform the market. Still, over the past six months, Mahanagar Telephone Nigam has outperformed much larger Tata Communications (NYSE: TCL), as well as Vodaphone Group (NASDAQ: VOD) and the S&P 500, despite the recent pullback.
Tata Motors
Shares of Tata Motors are up almost 42 percent year to date, including more than 21 percent higher in the past month. Based in Mumbai, this auto maker has a market cap of more than $16 billion and an annual dividend that this year was $0.33 per share. The P/E ratio is higher than those of automakers such as General Motors (NYSE: GM) and Toyota (NYSE: TM), and short interest is less than one percent of the float. The long-term EPS forecast is about 35 percent. One of two analysts surveyed recently upgraded the stock to buy; the other retains a hold recommendation. But the current share price has overrun the mean price target. Shares are still about 15 percent lower than the 52-week high set back in April. Over the past six months, the stock has outperformed Ford (NYSE: F) and General Motors, but underperformed the S&P 500.
Posted-In: Apple Bank of AmericaLong Ideas News Short Ideas Rumors Global Trading Ideas Best of Benzinga
View Comments and Join the Discussion!