FXCM and E-Trade Come Together for the FXCM Expo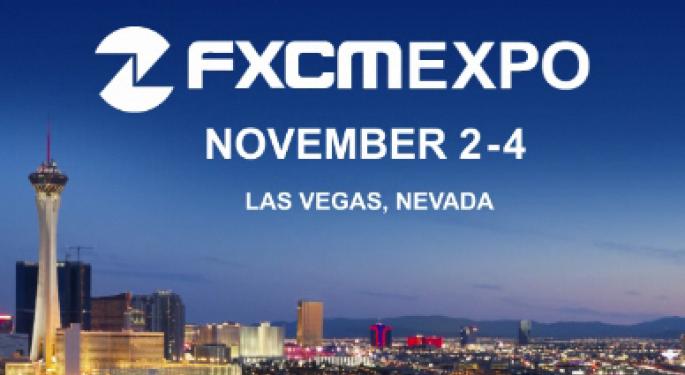 FXCM (NYSE: FXCM) and E-Trade (NASDAQ: ETFC) are teaming up to bring traders the FXCM Expo in Las Vegas.
Scheduled to take place from November 2 through November 4, the FXCM Expo is an educational event designed to help traders learn the financial markets and improve their trading abilities.
"This one's gonna be great -- two large brokers partnering together, making it all about education," said Jeremy Wagner, head of DailyFX Education, which serves as the educational arm of FXCM. "Education is the number-one priority."
Wagner said that the way FXCM puts on an expo is "vastly different" from other companies. "We're gonna give you a ton of education, we're gonna generate this good will with you," he said. "Then if you want to open an account with us -- because we've given you the tools and resources to become an effective trader -- you'll talk to us about opening an account. Some of the other expos take the other approach, trying to sell you a tool or resource so that you can go out and trade."
During the expo, Wagner is scheduled to speak three times. His first session, "Appropriate Strategies for Appropriate Markets," is aimed at helping traders avoid a crucial mistake. "Oftentimes the one thing that isn't right is that [traders] take their strategy and apply it to the wrong currency pair," said Wagner. "We all look for that Holy Grail type of strategy, that thing that we just plug in and the computer just starts cranking out money. Those strategies don't really exist."
In order to become a more effective trader, "we've got to know the personality of our strategy, and what market condition it's going to tend to do well in, and then we go look for the instrument for which to apply that strategy to," Wagner explained. "A lot of people have a hard time making that connection. They just think, 'Here are my buy and sell rules. I'm just gonna go out and apply this to the market. Man, it didn't work, the strategy stinks.' No, the strategy is probably fine, it's just that you're probably applying it in the wrong market condition. You're trying to use the wrong tool to go out and fix your car."
With regard to trends that exist in the forex market, Wagner said that he thinks people would be "shocked" to "find out some of the trends that exist in trading foreign exchange." As an example, Wagner pointed to the euro/Aussie cross-pair.
"Even though market volatility has been fairly low, the euro/Australian cross-pair has created an all-time low," he said. "People are obviously selling out of the euro and then moving towards what has been a relatively strong currency in the Australian dollar. That has created a very strong trend."
Wagner will host another session, "Stock Market and Forex Correlations," which will teach traders about the correlations between currency pairs and the stock market. "Australia has about 20 to 25 percent of its imports and exports coming from China or going to China, and China is a large worldwide leader when it comes to economic health," he said. "Therefore the Australian/U.S. dollar is often viewed as a proxy for worldwide economic health. If the stock markets start to fall because the prospect of future growth is not so good, then the Aussie dollar tends to fall. If the outlook is good -- China is growing, the U.S. is growing -- the Aussie dollar tends to move higher."
Beginners are encouraged to check out Wagner's third session, "Using Trendlines to Time Entries."
"This is geared for the beginner -- basically, how to utilize charts to time entries and exits using one of the most common and popular tools among new traders and experienced traders," said Wagner.
Those who are interested in attending this event can sign up now at the FXCM Expo website.
Follow me @LouisBedigianBZ
Posted-In: DailyFX Education fxcm Jeremy WagnerLong Ideas Short Ideas Forex Markets Trading Ideas Best of Benzinga
View Comments and Join the Discussion!