The Stunning Performance of These 4 ETFs is Going Unnoticed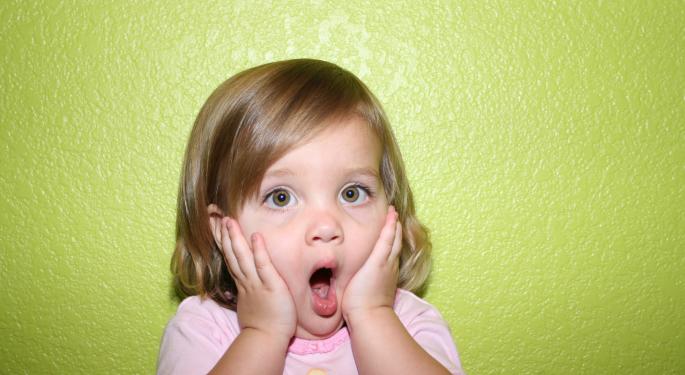 There have been plenty of market headlines of note over the past couple. Whether it has been central bank talk or new product introductions from Amazon (NASDAQ: AMZN) and Apple (NASDAQ: AAPL), traders and investors have had more than a few compelling events to pay attention to.
So it is not surprising that some jaw-dropping ETF performances are flying under the radar. Importantly, some of the following funds are not having little trysts with success. These ETFs have been impressing for a while now, regardless of fanfare. Leveraged ETFs were excluded from this list because those products can deliver breathtaking or heartbreaking performances in condensed time frames. Of course, leveraged ETFs are not every investor's cup of tea.
PowerShares NASDAQ Internet Portfolio (NASDAQ: PNQI) The PowerShares NASDAQ Internet Portfolio leads a fairly anonymous existence considering its high-flying constituency. That is to say PNQI is a momentum lover's delight as the ETF is home to some of the most familiar Internet names.
eBay (NASDAQ: EBAY), Amazon, Google (NASDAQ: GOOG), Priceline (NASDAQ: PCLN) and Baidu (NASDAQ: BIDU) combine for about 41 percent of PNQI's weight. That is a good thing as Amazon and Google are trading near all-time highs and eBay could make a run at its own all-time high over the next few months.
Global X Lithium ETF (NYSE: LIT) Here is one way of investing in the smartphone/tablet craze without owning Apple, Google or a technology sector ETF. LIT's relationship to the gadget craze and increased demand for hybrid vehicles has been a large part of the thesis behind this ETF for its 26 months of existence. That thesis is once again bearing fruit for investors. How many folks are noticing is a different story.
Lithium cannot be compared to gold or oil in that part of the reason those commodities move to the upside is expected declines of supply in the future. A lithium shortage is unlikely, and that makes LIT's recent ascent all the more impressive. What is pivotal to remember about lithium is that prices have tripled since 2000 due to increased demand, Bloomberg reported.
Another double or triple in demand over the next decade is possible, too. In the near-term, it feels like few investors realize LIT has accumulated the bulk of its year-to-date gains in the past month. The ETF's recent move above resistance at $14.50 is a bullish sign. Should that old resistance become new support, that is even more bullish as that could set LIT up for a move of 10 percent or more before year-end.
Global X FTSE Greece 20 ETF (NYSE: GREK) As the only ETF tracking the poster child for the Eurozone's sovereign debt crisis, the Global X FTSE Greece 20 ETF is by no means unheard of. However, the fund's recent performance has arguably not gotten the kudos it deserves. As various country-specific and multi-country ETFs with Europe exposure have rallied, GREK's performance has been overshadowed.
Maybe it is because GREK has just $16 million in AUM. Or maybe it is because Greek unemployment is still above 20 percent and investors need convincing the country is a legitimate investment destination. Whatever the reasons are for glossing over GREK do not change the fact this ETF is on fire.
GREK jumped 5.3 percent on Wednesday after German Constitutional Court ruled to allow Germany to support the Eurozone bailout fund. Wednesday's performance is part of a 21 percent gain over the past five trading days and that run has contributed to a 37.1 percent surge in the past month.
Be advised GREK is not for the faint of heart. The ETF was trading around $13 in mid-January before flirting with $20 a month later. By April, GREK was near $14 only to fall below $9 in June. The ETF closed just below $16 on Wednesday. That is a roller coaster ride if ever there was one.
Guggenheim China Real Estate (NYSE: TAO) Here is one that is likely to surprise a lot of China observers. After all, the iShares FTSE China 25 Index Fund (NYSE: FXI) is down on the year while the Guggenheim China Small-Cap ETF (NYSE: HAO) and the iShares FTSE China (HK Listed) Index Fund (NYSE: FCHI) are barely in the green.
Not to mention elevated property values and the potential for the bursting of a property bubble in China are seen as two scourges that could plague the world's second-largest economy. TAO has shaken off those factors and generally sour sentiment toward Chinese equities and ETFs to surge 32.6 percent year-to-date.
More gains could be on the way. After failing to break resistance at $19 on three separate occasions earlier this year, TAO accomplished the feat earlier this week.
Posted-In: Long Ideas News Sector ETFs Short Ideas Emerging Market ETFs Commodities Global Intraday Update Best of Benzinga
View Comments and Join the Discussion!