When Royalty Trusts Cease to be Royal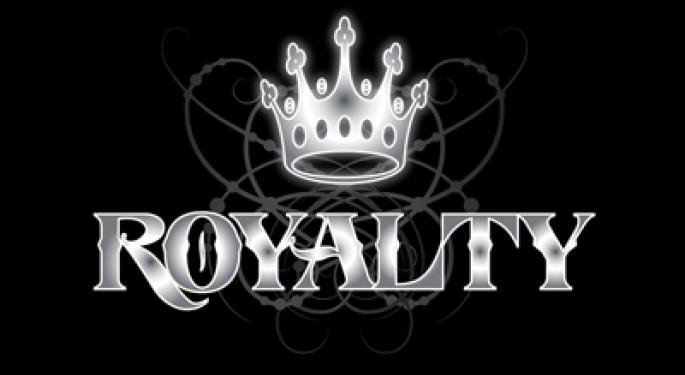 Several years removed from the payout-slashing days of the financial crisis, it is once again safe to be a dividend investor. In fact, 2012 is shaping up to be one of the best years in recent memory for dividend investors. On an anecdotal level, 25 companies raised their payouts in the last week of April alone. Dividend increases totaled $12 billion in the second-quarter, according to Barron's.
With statistics like those in mind, the recent spate of dividend cuts from various royalty trusts is confounding yield seekers. Like master limited partnerships (MLPs), royalty trusts usually offer exposure to the energy patch. And like MLPs, royalty trusts are prized by investors not only for robust yields, but for some tax advantages not found with common stocks.
Due to the fact that depletion and distribution costs associated with operating the trust are passed along to shareholders, dividends paid by royalty trusts are not considered taxable income. The shareholder is able to use the non-income distributions to reduce his/her costs basis in the shares, referred to as "units," and pay a lower rate of capital gains when the investment is liquidated.
These days, investors in royalty trusts can bank less income and that helps explain the seas of red various trusts have become in recent days.
Falling Dividends, Plunging Units In the past week, Hugoton Royalty Trust (NYSE: HGT) and San Juan Basin Royalty Trust (NYSE: SJT) announced dividend cuts. Two weeks ago, Dominion Resources Black Warrior Trust (NYSE: DOM) did the dividend-reduction dance. In the past five trading days, Dominion is down 6.8 percent, which looks good compared to the losses of almost eight percent incurred by Hugoton and San Juan Basin.
Hugoton and Dominion are micro-cap names while San Juan Basin is a small-cap stock, but the diminutive market cap values of these trusts does not obfuscate the broader problem of the potential dividends cuts many royalty trusts face.
A key facet of this asset class that investors must remember is that, by law, U.S.-based royalty trusts cannot acquire new assets once the trust is set up. Most royalty trusts are known for heading to areas where exploration risk is low. That is fine at the outset of the trust, but as time goes along, the asset depletes itself and investors are left staring the specter of lower payouts square in the face.
As the Wall Street Journal noted royalty trusts have no employees or physical assets, and most will cease to exist in 20 years or less. Their only value consists in the income they distribute. Their future payouts may well be a ghost of the yields that appear so attractive to today's investors.
What About The Big Boy? If there is such thing as brand recognition among royalty trusts, one name trumps all others. That is BP Prudhoe Bay Royalty Trust (NYSE: BPT). Yes, that BP (NYSE: BP). BPT is a royalty trust controlled by Europe's second-largest oil company.
Shares of BPT plunged almost six percent on Monday on volume that was about 6.5 times the daily average. Perhaps that was a knee-jerk reaction to what happened with the aforementioned smaller trusts. After all, BPT has been viewed as one of BP's "crown jewel" assets.
Not long after the Gulf of Mexico oil spill in April 2010, BP was rumored to be considering a sale of BPT. Occidental Petroleum (NYSE: OXY) was believed to be one interested party and various media outlets reported Apache (NYSE: APA) was close to acquiring a significant chunk of BPT.
Those former suitors may have done well not to buy BPT because the trust is arguably the poster child for the risks investors take on when the hunt for yield goes too far. There is no getting around the fact that BPT's yield of 8.5 percent is alluring. However, the Journal reports BPT has just $1.4 billion in cash with which to pay dividends. Even after Monday's tumble, the trust has a market value of $2.2 billion, implying investors are still paying a premium to be involved with what could be a vulnerable source of income.
Posted-In: Long Ideas News Short Ideas Dividends Dividends Commodities Events Pre-Market Outlook Best of Benzinga
View Comments and Join the Discussion!