Short Interest in Biotech Firms on the Rise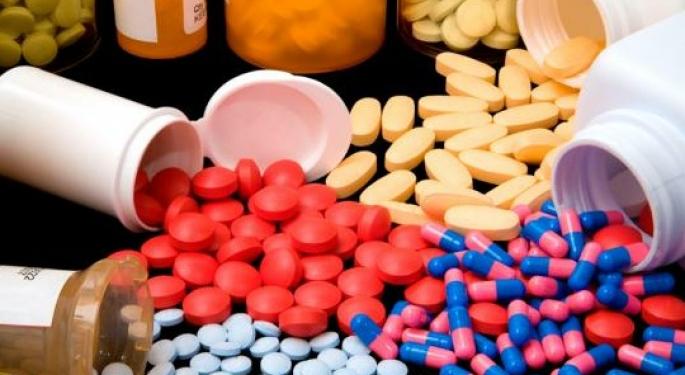 Short interest data has been released from the August 15 settlement date. Overall short sellers have continued to bet on biotech firms compared to the July 31 settlement date. A couple of notable exceptions are Alexion Pharmaceuticals (NASDAQ: ALXN) and Biogen Idec (NASDAQ: BIIB), which saw short interest decline 10.0 percent and 8.4 percent, respectively.
Here is closer look at Arena Pharmaceuticals (NASDAQ: ARNA), Gilead Sciences (NASDAQ: GILD), Pharmacyclics (NASDAQ: PCYC), Vertex Pharmaceuticals (NASDAQ: VRTX) and VIVUS (NASDAQ: VVUS), which all saw gains in short interest between July 31 and August 15 of more than 9 percent.
Arena Pharmaceuticals
This biopharmaceutical company saw short interest jump 9.5 percent to 42.7 million shares, and days to cover increased to three. Arena develops oral drugs that target receptors in the therapeutic areas of cardiovascular, central nervous system, inflammatory and metabolic diseases. It has a market capitalization near $2 billion and a return on equity in negative territory. The company reported a smaller loss for its second quarter. Of the nine analysts polled by Thomson/First Call, only two recommend buying shares.
Gilead Sciences
Shares sold short in Gilead Sciences increased 16.6 percent to 21.0 million, the largest number of shares so far this year. This maker of therapeutics for the treatment of life-threatening diseases such as HIV and hepatitis has a market cap of more than $43 billion. It is an S&P 500 component and has a return on equity is more than 36 percent. The mean target price of analysts is about 9 percent higher than the current share price, as well as higher than the 52-week high. The share price has traded between $56 and $58 in the past three weeks.
Pharmacyclics
Short interest in this maker of drugs for the treatment of cancer and immune mediated diseases rose 9.1 percent to 5.3 million shares. That represents 9.8 percent of the float. The long-term earnings per share (EPS) growth forecast is less than 1 percent and the price-to-earnings (P/E) ratio is much higher than the industry average. It is headquartered in Sunnyvale, California, and has a market cap of less than $5 billion. But seven out of nine analysts polled recommend buying shares; none recommend selling.
Vertex Pharmaceuticals
Short interest in Vertex rose 21.8 percent to 6.39 million shares, after declining in the four previous periods. This Cambridge, Massachusetts -based company develops and produces small molecule drugs for the treatment of serious diseases worldwide. Its P/E ratio is higher than the industry average, and the share price has fallen more than 6 percent over the 90 days. Its market cap is near $11.5 billion. Vertex posted a surprise net loss in the most recent quarter, and the consensus EPS estimate for the current quarter has fallen to $0.24 from $0.69 some 60 days ago.
VIVUS
This Mountain View, Calif.-based biopharmaceutical company saw short interest rise 18.5 percent to 16.4 million shares. That is 16.5 percent of the float. The market cap is more than $2 billion. The return on equity is in negative territory. Seven out of 12 analysts surveyed recommend buying shares; none recommend selling. The share price is down more than 11 percent the past 90 days, but is still nearly 200 percent higher than a year ago.
Posted-In: Alexion Pharmaceuticals Arena Pharmaceuticals biogen idecLong Ideas News Short Ideas Legal Trading Ideas Best of Benzinga
View Comments and Join the Discussion!