Barron's Recap (8/11/12): China's Top Brands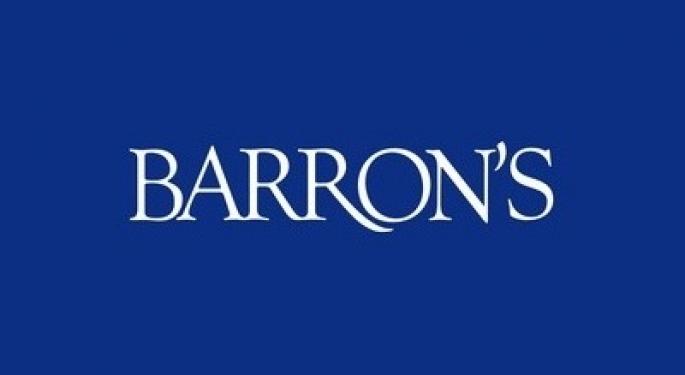 This weekend in Barron's online: 10 top Chinese brands, a look at Sears, GameStop, and Reading International, and how to play American exceptionalism.
Cover Story
"10 Chinese Brands You Must Know" by Kopin Tan.
The Chinese government would like nothing more than for its 1.4 billion citizens to "shop until they drop" says this article, or at least until its economy gets back on track. Boosting domestic spending has taken on new urgency now that Europeans and Americans are no longer scooping up goods produced by China's factories. So Barron's decided to take a look at 10 publicly traded domestic brands that stand to prosper in this new environment. They include Baidu (NASDAQ: BIDU), which is essentially China's Google (NASDAQ: GOOG), and China Mobile (NYSE: CHL), the world's largest telecom network. Lenovo is expected to overtake Hewlett-Packard (NYSE: HPQ) as the world's biggest personal-computer producer by the end of the year. Li Ning is China's second most recognized sporting goods brand, after Nike (NYSE: NKE). The list also includes China's biggest maker of washing machines and heaters, the Asian nation's biggest and most diversified Internet company, and the company that owns the Tsingtao Brewery.
Feature Stories
"There's Much More to Sears Than Meets the Eye" by Michael Santoli suggests that if Edward Lampert, the controlling investor of Sears Holdings (NASDAQ: SHLD), is engineering a "slow-motion liquidation" of the retailer, as some have speculated, then its shares could double in two years.
In "Why High-Frequency Trading Doesn't Compute," Jim McTague says that following four major computer mishaps this year, including the recent one at Knight Capital (NYSE: KCG), it may be time to rein in the markets' speed demons -- the trading bots.
"GameStop is stupidly cheap," says an analyst in "For GameStop, Endgame Could Be Buyout" by Andrew Bary. Despite concerns that GameStop's (NYSE: GME) wares will become passé, the videogame retailer looks attractive.
Leslie P. Norton's "The Man Who Saved AIG" turns the CEO spotlight on former MetLife (NYSE: MET) CEO Robert Benmosche, who came out of retirement to run -- and rescue -- AIG (NYSE: AIG) after it imploded in the financial crisis in 2008.
"Small Properties in Small Countries Mean Big Profits" by J. R. Brandstrader is a profile of Michael McGowan, manager of the Forward International Real Estate fund, who goes off the beaten path to find interesting real-estate investments trading at a discount.
David Englander's "Popcorn and Property" sizes up Reading International, one of the largest cinema owners in the United States, which owns properties, including four in Manhattan, that could be worth substantially more than the company's stated book value.
In "Ways to Play American Exceptionalism," Lawrence C. Strauss interviews Charles de Vaulx and Chuck de Lardemelle of IVA Worldwide Fund (IVWAX) to find out where they see value now. Since its inception, the fund has posted annual returns of 10.55%, better than 97% of its peers.
"Retirement Savings Plan" is an editorial commentary by Thomas G. Donlan about reforming Social Security before the crisis comes.
Columns
Columns in this weekend's Barron's discuss:
Whether investors are worrying too much
Small techs like Nvidia (NASDAQ: NVDA) getting a boost
The track records of economic forecasts
A new Morningstar study of moat-based investing
Consequences of consolidation in the ETF industry
The risks in investing in silver now
Monsanto's (NYSE: MON) dividend boost
Posted-In: AIG American International GroupLong Ideas Short Ideas Barron's Global Media Trading Ideas
View Comments and Join the Discussion!