Spyker Sues GM for $3 Billion Over Saab Bankruptcy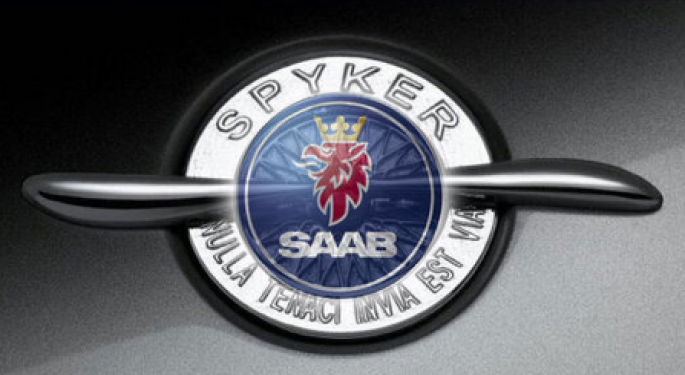 Dutch car manufacturer Spyker is suing General Motors (NYSE: GM) for $3 billion dollars. Spyker filed the complaint on behalf of its 100 percent Swedish subsidiary Saab. The company claims that GM purposely sent Saab into bankruptcy by blocking a deal with a Chinese car manufacturer.
Saab, which went bankrupt on December 19, 2011, claims that GM purposively sent it into bankruptcy through the unlawful action of avoiding competition with Saab in the Chinese market. According to Spyker, GM interfered with a deal between Saab, Spyker, and chinese investor Zhejiang Youngman Lotus Automobile. Through this deal, Saab would have been able to restructure and remain solvent. The $3 billion claims against GM is the amount that the deal would have been worth with Youngman.
Saab had been trying to work out deals with various Russian, Middle Eastern and Chinese investors in order to stay in business. GM, which is in a partnership with Chinese owned SAIC Motor Corp., blocked deals that Saab had with Pang Da Automobile Trade Co. and Zhejiang Youngman Lotus Automobile. The company blocked the deal by stating that it would stop supplying vehicles to Saab's new owners because it would be against shareholder interests. The chassis of most of Saabs models were GM's technology.
After Saab went bankrupt, it stopped manufacturing cars because it owed more than $2 billion in debt that was only backed by $500 million in assets. The company sold most of its assets to National Electric Vehicle Sweden, a company that is owned by Japanese and Chinese stakeholders.
Spyker's Chief Executive Officer Victor R. Muller said, "Ever since we were forced to file for Saab Automobile's bankruptcy in December of last year, we have worked relentlessly on the preparation for this lawsuit which seeks to compensate Spyker and Saab for the massive damages we have incurred as a result of GM's unlawful actions."
Spyker is bearing the costs of the litigation because Saab is in receivership, thus unable to contribute. Spyker and Saab have entered into an agreement that if Spyker carries the cost of the case, Saab will give the company a substantial award it if the proceedings are successful.
Spyker has filed the case in the United States District Court of the Eastern District of Michigan. Spyker has the financial backing that is required for the lawsuit through an unnamed third party.
Posted-In: Long Ideas News Short Ideas Financing Asset Sales Legal Management Global Best of Benzinga
View Comments and Join the Discussion!