Don't Fall for These ETF Yield Traps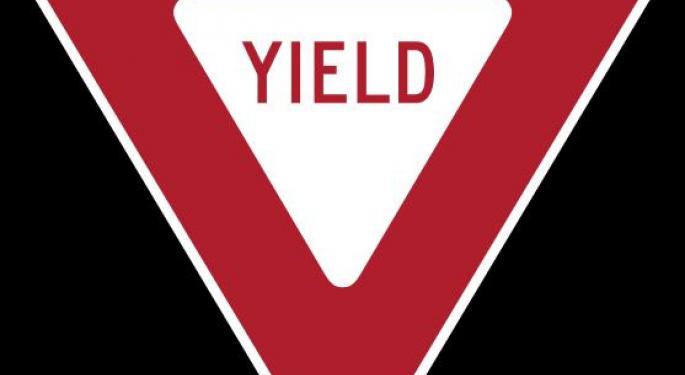 In the hunt for yield, all that glitters is far from gold. That is to say a high yield does not always mean a "good" stock or ETF is attached to that yield. Using yield as one of the primary determinants of value is risky business to say the least.
The iShares MSCI Spain Index Fund (NYSE: EWP) is a prime example. EWP's high yield may have looked alluring a few months ago, but ignoring the accurate calls that the yield was headed to the double digits would have proven foolhardy.
In a volatile market, there is no shortage of stocks and ETFs sporting high yields, but there is a dearth of good high yielders. Look at this list of ETF yield traps to get up-to-date on some must-avoid funds.
iShares MSCI Belgium Investable Market Index Fund (NYSE: EWK) The iShares MSCI Belgium Investable Market Index Fund now sports a trailing 12-month yield of 5.91 percent, according to iShares data. On the surface, that is attractive, but this is Belgium. The same Belgium that is smack dab in the middle of Europe.
Geographic guilt by association is important with Europe ETFs because EWK has performed only moderately less worse than the Vanguard MSCI Europe ETF (NYSE: VGK) over the past 90 days. EWK is within spitting distance of a new 52-week low, but there is one stock that can save this ETF: Anheuser-Busch InBev (NYSE: BUD). If that stock rallies again, EWK might be worth a look because the ETF allocates 27.2 percent of its weight to the beer giant.
iShares MSCI Emerging Markets Financials Sector Index Fund (NASDAQ: EMFN) The iShares MSCI Emerging Markets Financials Sector Index Fund is a good news/bad news situation. On the bright side, the fund shows investors can still find some decent yields with big bank stocks. They just need to look outside the U.S. to do that.
The bad news is there are legitimate reasons why EMFN has a yield that is approaching that is approaching seven percent, according to Finviz data. Primarily, the combination of emerging markets and financial services equities has proven to be less-than-pleasant this year.
EMFN allocates 29 percent of its weight to China, but that may not be the problem. The drag on this ETF's performance, at least part of the drag, has been the combine 28 percent allocation to South Africa, Brazil and India.
iShares S&P Global Clean Energy Index Fund (NASDAQ: ICLN)It may sound surprising that an alternative energy fund appears on any list regarding ETFs with robust yields, but consider this: Solar ETFs have previously appeared on similar lists.
ICLN has plenty of solar exposure. The ETF also has plenty of problems, having plunged 60 percent in the past year. That explains the trailing 12-month yield of almost 5.3 percent.
For more yield trap ETFs, click here.
Posted-In: Long Ideas News Sector ETFs Short Ideas Dividends Dividends Emerging Market ETFs Intraday Update Best of Benzinga
View Comments and Join the Discussion!