With Steve Jobs Gone, Could Hugh Hefner Open The Door For iPad Porn? (AAPL)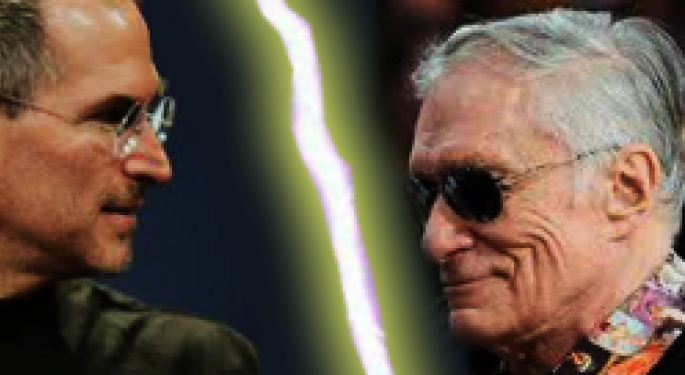 Hugh Hefner may have agreed to abide by Apple's (NASDAQ: AAPL) policies and guidelines, but that might not stop him from pursuing a more graphic app in the near future.
By now you've heard the news: Playboy (NYSE: PLA) is coming to the iPad in two forms.
The official word is that consumers will have the option to subscribe to a service from Bondi Digital Publishing that will give them access to every issue of the magazine both past and present. Alternatively, users can choose to download the forthcoming Playboy-branded iPad app, which, according to a spokeswoman for the magazine, "adheres to all of Apple's policies and guidelines."
But those rules were practically written by Steve Jobs, a man who is currently on medical leave. With that in mind, you have to wonder: will Hugh Hefner push for a more complete (read: clothes-free) iPad experience?
Right now, Hefner might like the idea of being able to sell a subscription service to one customer and a simple app to another. But just as other, non-digital magazines have pushed the envelope with regard to what it can and cannot publish, Playboy could slowly increase the degree of (ahem) content it provides.
This, of course, would open the floodgates to porn kingpins all over the Internet, who have no doubt been dreaming of the day when the iPad could serve the world's iPerverts. But even if Jobs decided to leave the company permanently, there's a chance that Apple would choose to stand by this rule.
While porn is a very successful industry, Apple has prided itself on being a company that maintains its moral beliefs. From iPhones and iPods to MacBooks and iPads, Apple products have invaded not only the homes of adults, but the homes of families – and the lives of children. Though the day may come when porn arrives on the iPad and other Apple devices, that day is not going to come anytime soon. Not with Apple's official blessing, at least, and certainly not with the support of Steve Jobs.
Posted-In: Long Ideas News Short Ideas Tech Media Trading Ideas
View Comments and Join the Discussion!