Benzinga's Bulls & Bears Of The Past Week: All Eyes On Apple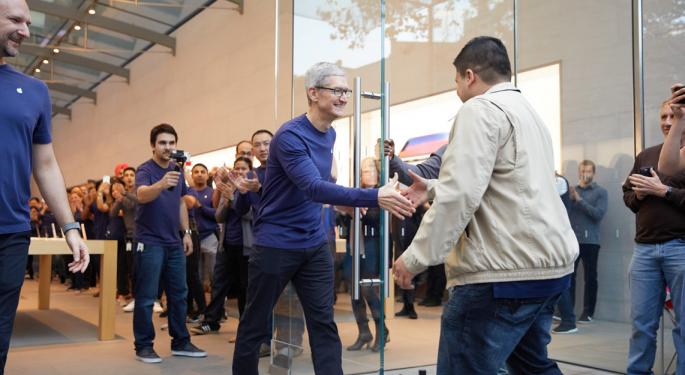 Benzinga has featured a look at many investor favorite stocks over the past week.
Much of the attention was on the iPhone maker, before and after its earnings results.
Bulls see reasons to be giddy, while bears have a reason to sell the shares.
This past week, Benzinga continued to feature the prospects for many investor favorite stocks, as it does every week. But sucking up a lot of the air in the room was perhaps the most anticipated earnings report of them all. Apple Inc. (NASDAQ: AAPL) shared its latest results as the new iPhone is put in the hands of eager fans, and in the wake of stellar results from other tech giants. Here are some of the more bearish and bullish calls on Apple seen last week.
Bulls
"Apple's Across-The-Board Beat: 'Tim Cook Is Giddy, And He Should Be" by Elizabeth Balboa takes a look at why one key analyst says the company has not peaked, despite shares trading at all-time highs and management forecasting higher-than-expected revenue and gross margin. But should investors fear a "brief" fall in Apple's future?
In "Apple Services Segment Continues To Exceed Expectations," Jayson Derrick shows why strong expectations for the iPhone X are not all that Apple has going for it. Can the phenomenal growth seen of late in the Services segment continue going forward? And is that growth enough to justify a higher multiple on Apple's stock?
Wayne Duggan's "Wall Street Still Loves Apple" offers a run-down of what various top analysts had to say in the wake of the warmly received quarterly report. See who was impressed by the growth in China and by strength in older, lower-priced iPhone model sales. Can Apple continue to defy detractors? Which coming quarter will provide the largest beat for this iPhone cycle?
For another bullish call, despite a disappointing earnings report, check out "Gene Munster: Tesla Investors Will Be Rewarded After A Longer-Than-Expected Shift To Autonomy."
Bears
Apple brought out the bears, not on itself, but for QUALCOMM, Inc. (NASDAQ: QCOM), according to "Apple-Qualcomm News Shakes These 7 Stocks" by Shanthi Rexaline. The ongoing legal dispute between Apple and its supplier of iPhone and iPad components took a turn for the worse, with Qualcomm reportedly locked out of future Apple products.
In Jayson Derrick's "Apple Investors: Be Prepared To Sell The News Thursday," see why one key analyst expected positive news ahead of the quarterly report and yet still recommended that investors sell the shares anyway. Part of the analyst's thesis is that Apple has evolved into a "luxury company" and the jury is still out on how it can perform in that category.
"Analysts Ponder If Apple Should Compete With Gucci Clothes Rather Than Galaxy Phones" by Elizabeth Balboa also delves into the notion of Apple as a luxury brand and stock. Is buying an iPhone X a way to express status and to fit in? Also find out how Apple compares to the likes of Louis Vuitton, Cartier or Prada on a valuation basis.
Also see Starbucks' Comparable Sales Look To Have Bottomed — But What's Next? for a call that's not as bearish as it might have been given the disappointing quarterly results.
At the time of this writing, the author had no position in the mentioned equities.
Keep up with all the latest breaking news and trading ideas by following Benzinga on Twitter.
Apple CEO Tim Cook greets customers in Palo Alto on Nov. 3, the launch day for the iPhone X. Photo courtesy of Apple.
Posted-In: Apple iPhone X QualcommTrading Ideas Best of Benzinga
View Comments and Join the Discussion!