Zombie Assets? In My Portfolio? It's More Likely Than You Think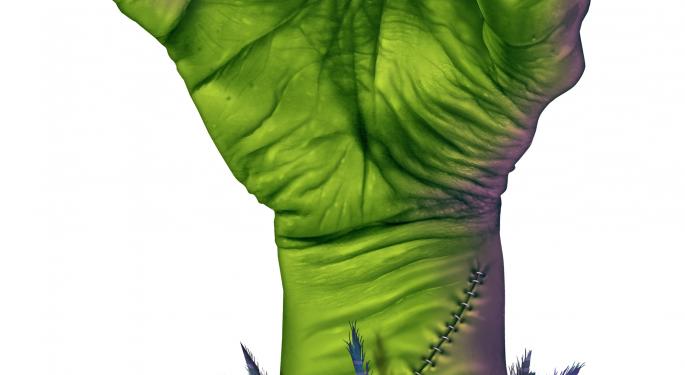 by Anthony Shields, Minyanville staff writer
Investors sometimes think of themselves as the objective, well-reasoning heroes of a zombie movie. They believe that they can make financial decisions based purely on the numbers, refusing to make excuses for failing stocks, or hold on to decaying properties. However, when it's a family house or a long-possessed stock that's threatening the survival of your portfolio, making the decision to cut your losses can feel like deserting a loved one.
Recently, I spoke to Bob Stammers, CFA, who has encountered his fair share of investors struggling to realize that their assets are more dead than alive, and he shared a few tips to help you better identify and kill your own zombie assets.
Stammers defines a zombie asset as one that continually underperforms, both in the market and within its sector. Most of the time, theseare the stocks that we find ourselves emotionally attached to either because it was inherited or part of a beloved company. Stammers recounted one notable example where, as head of The Timber Fund, he sought out families that had inherited timberland, hoping to buy or lease their land:
What happened was they didn't know how to manage the timber and it cost them a lot of money to maintain it, pay the taxes, and for them it was a zombie asset…they weren't getting any return from it, but they couldn't get rid of it. They would say, "It's been in the family for generations, we can't get rid of this asset."
Zombie assets can also be revealed during one's efforts to diversify their holdings in each sector. While some sectors perform well at different times, it's always a good idea to take note of which stocks perform poorly continuously. Removing such stocks from your portfolio may reduce your presence in a given sector, but it should save you money overall.
Zombie assets could also include those stocks that don't really grow over time. For this, Stammers points to Wal-Mart (NYSE: WMT), which, while a great stock to trade up and down for those who trade options, can stagnate and decay as a long term asset, making it much harder to turn a profit.
If you still find yourself unable to remove the undead stocks from your portfolio, then it's time to call your own personal Van Helsing: A financial advisor. It might seem like an extraneous expense at first, but the objective advice from an investment expert might be what you really need to open your eyes to your asset's true nature. Even if your financial advice currently comes from a financially knowledgeable family member, Stammers believes that obtaining objective guidance from another person is essential towards making sound financial decisions.
He concludes, "Investing for most people is an emotional event, and it shouldn't be...the only way to really counteract it is to have someone else giving you objective advice to help you with those decisions [and] to get the emotion out of your decision making. It creates that investment discipline that we usually talk about."
More from Benzinga:
Big Banks Do Good for Victims of Hurricane Sandy
Medivation, Astellas Prostate Cancer Drug Soars in First Weeks on Market
Tim Cook Fires Key Execs: Business as Usual or Beginning of the End for Apple?
The preceding article is from one of our external contributors. It does not represent the opinion of Benzinga and has not been edited.
Posted-In: Trading Ideas
View Comments and Join the Discussion!