Are We There Yet?
By All About Trends
We've talked for a long time about us being in an ABC down pullback and that has been exactly what's happened over the last few weeks, albeit the last two days throws the whole subject of this being just a pullback into question. Especially when one looks at all the damage done to individual names out there. That ABC is also the reason we've been sitting with a cash position of 75% for quite some time.
The thing with down legs (C wave) or even up legs (like the one we saw from January thru April is that one just never truly knows how far they are going to go.  That is always going to be the case.  As far as the C wave of an ABC pullback goes? One could say that was/is about it as the rubber band is stretched pretty far in the short term.  HOWEVER, the amount of damage done to market leaders and the go to names over the last few months (particularly Thursday's and Friday's growth names that were thrown out with the bath water) is NOT going to be repaired overnight. Most of those names are going to need MONTHS if at all to repair themselves.
It also means that the names the market has not got to this go around to the downside are going probably get it in the next go around to the downside. That said IF the  names below that look like LQDT rally with the market in what could be a pending D wave, snapback rally, short cover rally, dead cat bounce whatever you want to call it then issues that look like LQDT COULD put in tops in that bounce.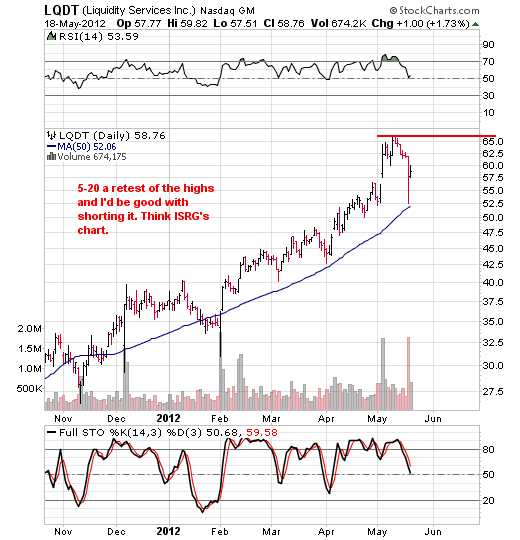 And anything still standing near new high ground that looks like it for that matter.The other type of patterns you want to be on the lookout for in bounce mode would look just like the name below, ala first thrust down, snapback rally then upon completion of the pink line snapback? That is when we want to short them, or on a too far too fast bounce in the market.  
VAL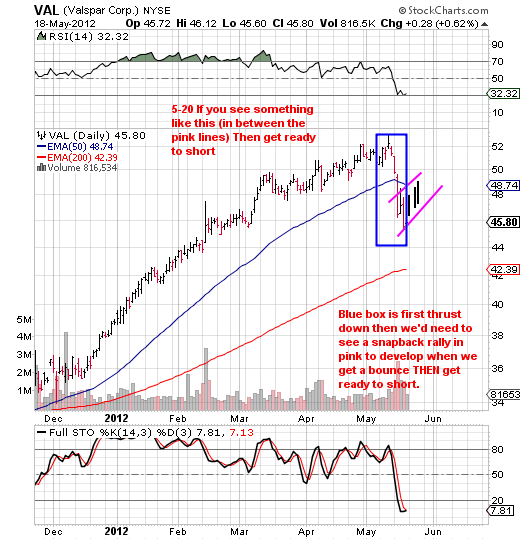 NOTE: All next week we are going to be bringing names to the forefront that COULD be short sells setting up AFTER the rubber band springs forward. No matter how much I'd like to say this was a C wave and we are all done/near done the amount of damage and the big tails on many names to the downside on Thursday and Friday pretty much throw that scenario out the door- The ABC and that was it to the downside scenario.
The following has been an excerpt from the weekend's premium update by All About Trends.  Premium members receive daily market commentary and stock picks, a weekend wrap-up, and a concise trading plan. I personally recommend their service for their insightful content, trading methodology, and value. Try it here at a significant discount.
The following article is from one of our external contributors. It does not represent the opinion of Benzinga and has not been edited.
Posted-In: Trading Ideas
View Comments and Join the Discussion!