The '60 Minutes' Effect On Stocks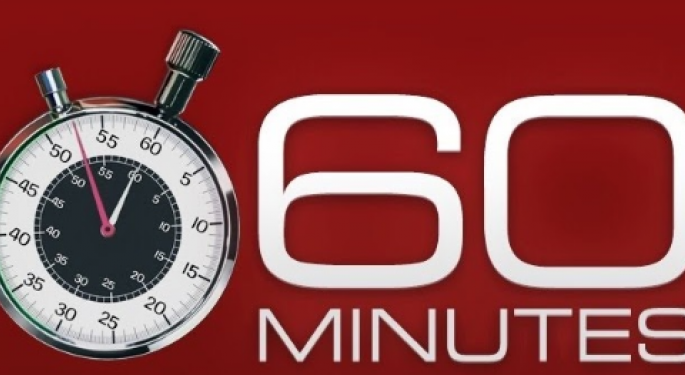 Experienced traders know that rumors don't have to be true to move markets. Ever since a 2015 "60 Minutes" expose linking Lumber Liquidators Holdings Inc (NYSE: LL) products to cancer sent the stock crashing more than 75 percent, traders are on the lookout for any companies featured on the investigative program.
Regardless of whether or not these companies actually appeared on the program or what the content of the program was, stocks rumored to be featured on "60 Minutes" have certainly provided several trading opportunities in the past month.
'60 Minute' Movers
How To Play It
If recent trends are any indication, the Lumber Liquidators expose may have made the market a bit jumpy when it comes to "60 Minutes."
Recent stocks featured on the program have tended to make large knee-jerk moves in response to the initial "60 Minutes" news only to retrace most or all of those moves following the airing of the program. In that respect, a "60 Minutes"-related market move may be more of a contrarian indicator for traders these days. Of course, there's always the risk that "60 Minutes" could blow the lid off of another huge story like Lumber Liquidators and have a lasting impact on a stock.
Regardless, traders can use the Benzinga Pro Newsfeed to monitor all the latest market news and trading rumors to find any stocks that may be on the move related to upcoming media coverage and other potential market catalysts.
Related Link:
Genprex Shares Are Up 260% This Week: Here Are A Few Things To Consider
View Comments and Join the Discussion!
Posted-In: 60 minutes AchtarTop Stories Media Trading Ideas Best of Benzinga