The Big Business Of Cereal: Which Company Is Winning The Breakfast Bowl Wars?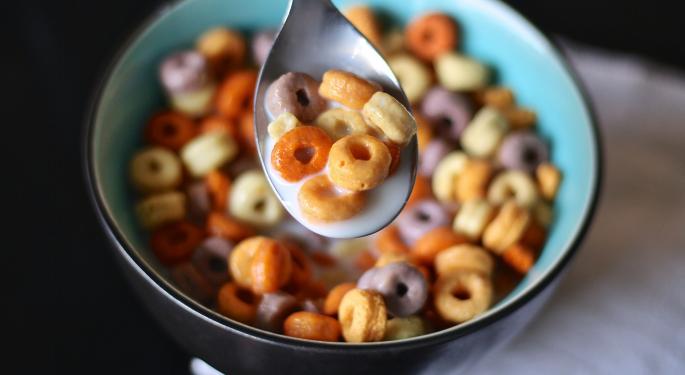 Breakfast is said to be the most important meal of the day, and General Mills, Inc. (NYSE: GIS) is staking its health on this maxim.
The packaged food producer recently increased investment in its cereal business to prompt a 7-percent sales pop last quarter.
By other metrics, too, the extra spending seems to be working. General Mills produces four of the top nine cereals in the U.S., according to data from IRI, and holds the top spot above Kellogg Company (NYSE: K) and Post Holdings Inc (NYSE: POST).
Here are the favorites:
General Mills' Honey Nut Cheerios
Kellogg's Frosted Flakes
Post's Honey Bunches of Oats
General Mills' Cinnamon Toast Crunch
General Mills' Cheerios
Kellogg's Froot Loops
General Mills' Lucky Charms
Kellogg's Mini Wheats
Kellogg's Raisin Bran
The companies are heavily dependent on their cereal sales, which comprise a $10 billion market, according to May 2017 reports from IBIS World.
The category contributed 17 percent, or roughly $2.65 billion, of General Mills' $15.6 billion 2017 sales.
Post reported $1.964 billion in the segment, representing 37.6 percent of the company's $5.226 billion total. The year saw a 3.1-percent decline Post cereal, which still claimed a 19.1-percent share of the U.S. market.
Kellogg doesn't break down its sales into segments, nor does it release full-year results, but it reported a dip in U.S. morning foods last quarter.
So in honor of March 7 apparently being dubbed "National Cereal Day," enjoy a bowl of whatever you like best!
#NationalCerealDay pic.twitter.com/bsHyCmEgin

— ShinigamE (@WWEBigE) March 7, 2018
Related Links:
'Soup And Cereal' Stocks Are Looking Tasty Now
As Grocery Stores Cut Cereal Shelf Space, Refrigerated And Frozen Foods Are Wanted Products
View Comments and Join the Discussion!
Posted-In: Cereal Frosted Flakes Honey Bunches of Oats Honey Nut Cheerios Lucky Charms National Cereal DayTop Stories Trading Ideas Best of Benzinga